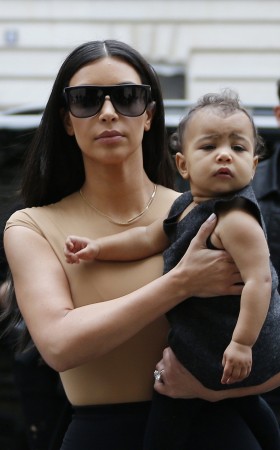 Kim Kardashian's rep has played down the rumour that the reality star was barred from attending Angelina Jolie's film "Unbroken's" premiere in Sydney. Highlighting the alleged Jolie-Kardashian feud, Australian website TheFix had reported on Wednesday that Brad Pitt's wife "personally barred" Kardashian's entry to the event.
"The last thing Angie needs is a reality star walking the red carpet at her premiere. She is focussed only on getting the Oscar nomination she's always wanted and didn't give Kim a second thought. She's got too much on the line right now," the website, quoting the source, said.
The site also reported that Kardashian "desperately" tried to attend the event, as she wanted to be seen with the power couple, Brangelina."
"Angie's people told Kim to buzz off and that Angie didn't want to socialise with Kim or do a photo op in Australia with her. Kim was crushed," the source further said.
However, according to Daily Mail, Kardashian was far away from the premiere and was busy promoting her new perfume Fleur Fatale. She is reportedly giving interviews and has been hopping from one Australian city to another. The reality star has also revealed in one of her interviews that she and husband Kanye West are trying to have another baby.
With regard to her new range of perfumes, the reality television star said that it boosts of high notes of rose, according to the Website.
Meanwhile, Angelina Jolie is busy with her film's promotion. "Unbroken" is her second directorial venture and is based on a book by Laura Hillenbrand, "Unbroken: A World War II Story of Survival, Resilience, and Redemption."
Husband Brad Pitt accompanied Jolie for the premiere. This was the couple's first red-carpet appearance since getting married in August. She also did a photocall and press conference for the film. The couple has now jetted out of the city and reportedly reached Los Angeles.
Jolie and Pitt got married in a secret ceremony in France. Their six children: Maddox, Pax, Zahara, Vivienne, Shiloh and Knox, along with the close family members had attended the wedding. They were in a live-in relationship for 10 years before getting married.