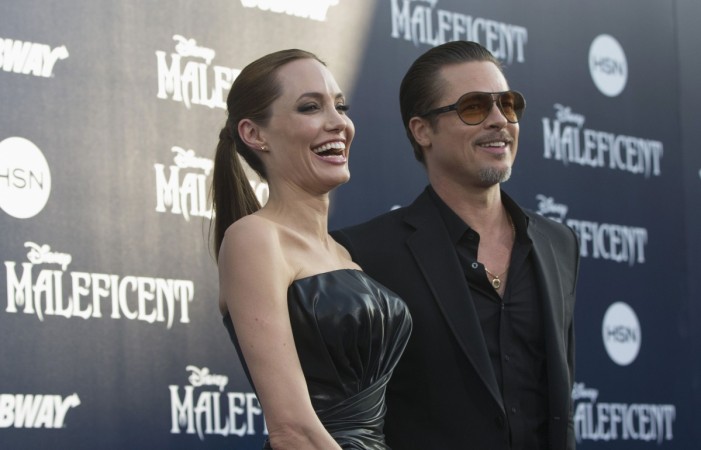 Rumour has it that Angelina Jolie does not want Brad Pitt to hang out with Quentin Tarantino as she thinks that Tarantino is a bad influence on Pitt.
Projecting Jolie as a dominating partner, print edition of National Enquirer recently said that she has banned Pitt from meeting Tarantino and she also refuses to socialize with Tarantino and his current girlfriend Uma Thurman, reported Celebrity Dirty Laundry.
Tarantino and Pitt became buddies when they did the movie "Inglourious Basterds" together, but Jolie is unhappy with bad partying habits Pitt has picked up from the filmmaker.
Moreover, it is also being said that Jolie is uncomfortable hanging around with Thurman as the latter accused her of having an affair with Ethan Hawke. Hawke and Thurman were married, when Jolie allegedly had an affair with the former on the sets of "Taking Lives" in 2003, as per the reports.
"With all due respect - the woman has been in the press a lot lately - but my best onscreen kiss was with Angelina Jolie," Daily Mail quoted Hawke as saying that time.
However, the two actors never confirmed their off-screen romance.
Meanwhile, it is being also being said that Jolie and Pitt's marriage is getting delayed from time to time. Apparently, Jolie doesn't have many female friends and she is waiting for her daughter Shiloh to be her bridesmaid when the little one grows up.
"They might let a lot more time go by before tying the knot because she doesn't have any close women pals she can call on to stand up for her at the ceremony," a source told Radar Online. "Angelina's told Brad that they couldn't marry until Shiloh's old enough to be her bridesmaid."
However, it does not seem that Jolie really thinks about the bridesmaid's angle when it comes to walking the aisle with Pitt. She has always lived her life on her terms and has not cared what people had said about it. When in 2012 her leg high slit dress from the Oscars became a sensation she had suggested she doesn't pay much attention to what other have to say.
"I don't watch those TV shows and if I go online and see something about myself, I don't click on it," she told Huffington Post. "And the people I surround myself with don't really talk about that kind of stuff. I heard something, but I didn't pay any attention. It's as simple as being a woman picking a dress you like and having a night, and not really thinking about anything else."
Jolie and Pitt have been together since 2005 and have six children together.