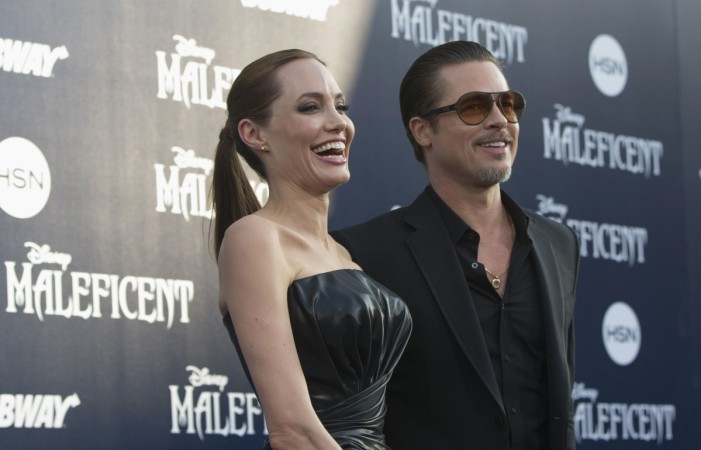 Angelina Jolie and Brad Pitt got married in a secret ceremony on 23 August. The couple, who got engaged in April 2012, took vows at their $60 million French estate. The only people present at the private wedding ceremony were their six children and close family members and friends. Pitt's parents Bill and Jane Pitt were also there to give their blessings to the couple.
Brad Pitt and Angelina Jolie first met on the sets of "Mr. and Mrs. Smith" when the former was still married to Jennifer Aniston. However, Jolie said in one her interviews that she and Pitt remained good friends till the latter divorced Aniston.
"We spent a lot of time contemplating and thinking and talking about what we both wanted in life and realized that we wanted very, very similar things. And then we just continued to take time. We remained very, very good friends--with this realization--for a long time. And then life developed in a way where we could be together, where it felt like something we would do, we should do", Jolie once said about her relationship with Pitt to Vogue 2012 Janaury issue, as reported by People.
It is reported that the couple had a very traditional wedding. Pitt was recently spotted with a gold wedding band designed by friend Robert Procop. It is also believed that Jolie's 16-carat emerald-cut diamond ring that is reportedly worth $500,000 too was designed by Procop.
Congratulatory messages poured in after the couple's representative announced the wedding news.
Interestingly, Vanity Fair went ahead and imagined some of the celebrity reactions on Pitt and Jolie's wedding. Here is hilarious reaction of Pitt's ex wife Aniston as imagined by the magazine:
"Jennifer Aniston returns to her apartment and drops her Whole Foods groceries on the table. Justin Theroux is doing sit-ups by the window.
"Hey babe," he shouts. "How was your morning?"
"Fine, fine, fine," she says, flipping through the mail on the counter.
"It looks like that Friends reunion clip from Kimmel is getting a lot of traction!" he shouts.
"Yep," she mutters. She puts her keys up on the rack, and then walks to the fridge and takes out a smoothie. She eyes Justin and then walks toward him. "Are you just going to . . . keep doing sit-ups?"
Justin jumps up. "What? No? Or . . . yes? Which do you want?" He picks up a basketball near him on the floor. "Or, did you want to talk about . . . it? I figured you wouldn't want to."
"There's nothing I need to talk about, no."
"So, can I . . . keep doing sit-ups, then?"
"Go right ahead, Justin! Sit-up your heart out." She snatches the basketball.
"What are doing with my basketball, Jen?"
"I DON'T KNOW YET," she shrieks, walking down to her bedroom. "MAYBE I'LL TAKE IT TO THE PARK. MAYBE I'LL MARRY IT IN SECRET IN FRANCE. MAYBE I'LL DRIBBLE IT. MAYBE I'LL DRIBBLE IT, JUSTIN."