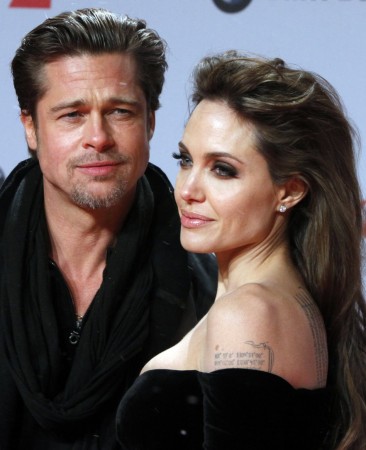 Hollywood's hottest couple Angelina Jolie and Brad Pitt got married at a secret ceremony in France on Sunday. The media, which was kept in the dark for five days until the spokesperson for the couple confirmed it on Thursday, lapped up the news soon as it was made public. But this was one news that has reportedly upset Pitt's ex-wife Jennifer Aniston, whose movie releases this weekend.
Pitt, 50, and Jolie, 39, tied the knot in a chapel at Chateau Miraval, their leased vineyard estate in the Provence hamlet of Correns last Saturday, Daily News quoted the spokesman as saying.
It is reported that Pitt's ex-wife Jennifer Aniston is upset with the latest development, albeit for professional reasons, as the power couple has the potential to grab all the limelight this weekend, which means people will talk less about her movie, "Life Of Crime" that hit the theatres on Friday.
"Jen is upset that everyone is talking about Brad and Angelina's wedding, even after she did the F.R.I.E.N.D.S mini-reunion on Jimmy Kimmel's show," a source close to Aniston told Hollywood Life, adding that she "thought that (the show) was going to be the news that leading to the weekend where people would be interested in her movie."
"Now she has to be prepared for embarrassing question about her feelings concerning Brad and Angelina's wedding at all media events. Even though it will be strictly off limits and not up for discussion, she knows the media will drive her to that corner," added the source.
However, the 45-year-old actress is also aware that the media will bombard her with questions related to Brangelina, which may bring more publicity to her movie.
"She isn't stupid. She knows that her name is going to be around more with the news of the wedding," the source told the website. "Now that the spotlight is on her too, people will be interested in seeing her new film this weekend."
Aniston, who is engaged to Justin Theroux, married Pitt in 2000. It was speculated that they parted ways because of Pitt's closeness to Jolie on the sets of "Mr. & Mrs. Smith".
Interestingly, Pitt and Jolie started making public appearances together soon after Aniston filed for divorce in 2005. Jolie announced in 2006 that she was pregnant with Pitt's child. Reports of their break up hit the headlines several times but they kept going strong and got engaged in 2012 after seven years of courtship.
Jolie was earlier married to Jonny Lee Miller and Billy Bob Thornton.