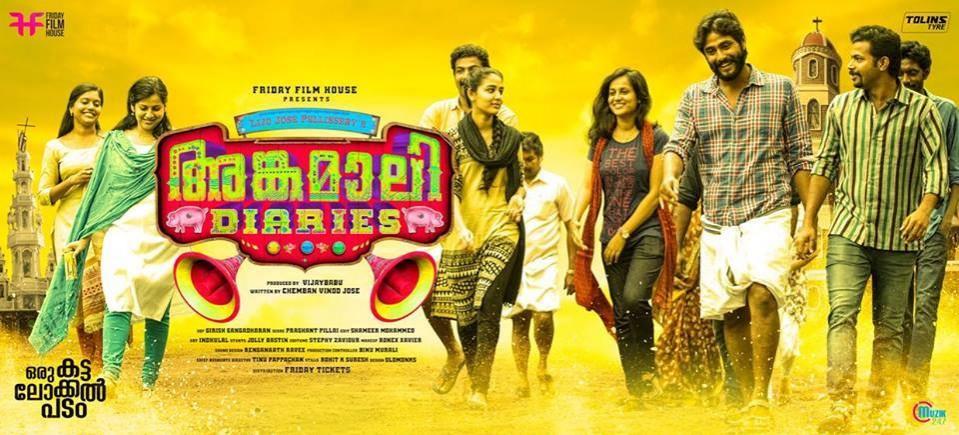 Angamaly Diaries, the latest Malayalam movie, starring as many as 86 newcomers, has been tagged as the best realistic movie in Malayalam in recent times. Audience are impressed with the performance of protagonist Antony Varghese and all other actors in the Lijo Jose Pellissery directorial, which is narrated in the backdrop of Angamaly on the people residing there.
Check: Angamaly Diaires live audience review || 1st day collection report
The movie has been scripted by actor Chemban Vino Jose, who has also been garnering immense response from audience, celebrities and critics alike. The pre-release hype was huge for the gangster flick after the makers arranged a special premiere show for celebrities.
PLOT
"The film's protagonist is Vincent Pepe (Anthony Varghese), who is a quintessential good boy. He is active in church and a mamma's boy. As his father is away in Karnataka, Vincent in his teenage years grows up idolising one of the local goons, Babuji. Following his lead, Vincent soon forms a gang of his own, who are ready to take on any challenge and one of them is to run a pork business. The hurdles they face in the daily grind take the coming-of-the-age movie forward," according to the Times of India.
TECHNICAL ASPECTS
"It's all there that is usually seen from a story of this kind, but what works here in a splendid way is Lijo's brilliance as a filmmaker. He beautifully mixes the peculiar dialect of Angamaly, the attitude of the natives, their love for pork and the inherent humour that makes them so special. Chemban Vinod Jose, who hails from the area, has managed to come out with a convincing script that is based on real events and characters that behave like normal people. A big round of applausefor Girish Gangadharan's splendid visuals and Prashanth Pillai's terrific music," writes Sify.
PERFORMANCE
"Antony as Pepe is a charmer worth swooning over even with his unsophisticated looks. The actor does justice to his role and endears himself to the viewers with his natural acting. Bonus points for his smile. The casting director deserves a special round of applause for finding these many talented newbies. Withth 85 new faces, the freshness Pellissery brings to the reel is mind boggling," according to Onmanorama.
FINAL TAKE
Through its promos, Angamaly Diaries may have created the attire of a comedy film. To an extent it is humorous, but it is mainly because of the natural conversations and organic developments in the screenplay. The inner games of the gangster rivalry and thickness and thinness of the anger in those equations gets depicted very skillfully. Angamaly Diaries is a brilliantly crafted gangster flick, writes Lensmanreview