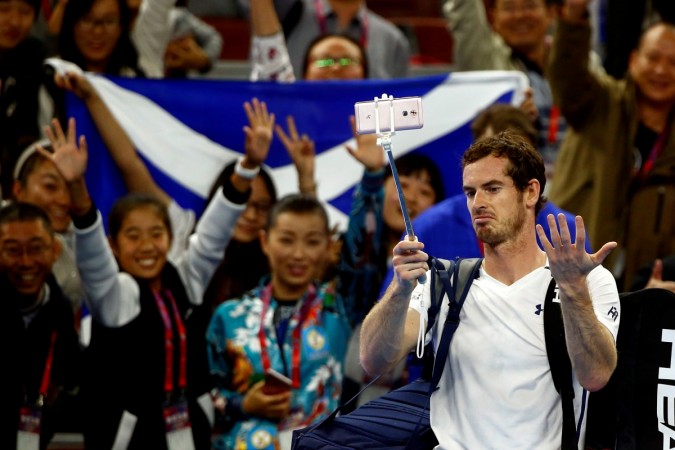 British tennis superstar Andy Murray has revealed that he had an "extreme" experience from a fan during one of the tournaments in his career. The 29-year-old, who is married to Kim Sears, mentioned that despite his hotel room showing a "Do not disturb" sign, a maid encroached in and tried getting close to him.
"She came in and sat on my bed and started stroking my arm at about 7 in the morning when I was still sleeping," Murray told MTV India VJ Anusha Dandekar in an interview for the International Premier Tennis League (IPTL).
"[The maid] then turned up at a couple more tournaments in the hotels I was staying at - in Rotterdam and Barcelona. I don't know if that's a fan thing? That's a bit extreme, but that happened."
Murray did not name the hotel or city or when the incident took place, but according to Guardian, a representative from Murray's team had reported the incident to the ATP (Association of Tennis Professionals) at the time.
"The ATP takes any breach in player security extremely seriously. All players are encouraged to report any incident involving a stalker or unwanted attention to the ATP director of security, who will assist the player and his team in reporting such an incident to the appropriate authorities in the jurisdiction that it occurred," an ATP spokesman has been quoted as saying.
Murray, No 2 in the world at the moment, advanced to the second round of the ongoing China Open with a 6-2 7-5 win over Andreas Seppi.
The two-time Wimbledon champion had suffered a shock exit in the quarterfinals of US Open 2016 after getting beaten by Japan's Kei Nishikori in an epic five-setter. Murray had earlier reached the final of Australian Open 2016, French Open 2016 and won the title in Wimbledon 2016.