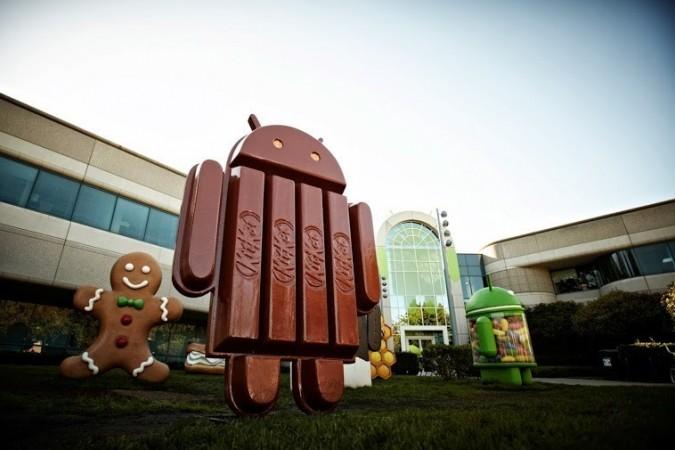 It's been only a little over two weeks since the Google released a new v4.4.3 KitKat update to company's Nexus affiliated devices and before the update get rolled out to wider range of OEM (Original Equipment Manufacturers) partner smartphone brands, now the search engine giant has pushed out yet another firmware (v4.4.4).
The company has released the factory images of Android v4.4.4 KitKat (with build number - KTU84P) for select Nexus devices- Nexus 5 (GSM/LTE), Nexus 7 2013 edition (Wi-Fi), Nexus 10, Nexus 4 and Nexus 7 2012 edition (Wi-Fi). Users can download the updates manually (via PC) at Android developer's web-page. [Scroll down to the table below for more information].
According to recent reports (via AndroidOS.in), Google Nexus 5 has already begun receiving OTA (Over-The-Air) update; the size of the file is said to be just 2.5MB, hinting that this might be a minor update and if some Nexus 5 owners (via XDA developer forum) are to be believed, then the new firmware brings security related fixes and other OpenSSL related vulnerabilities.
Since the release of Android v4.4 KitKat in late 2013 along with Google Nexus 5, the search engine giant has released three OS updates - KitKat v4.4.1 and v4.4.2 to enhance camera features, performance and interface, but soon after the second update, Nexus 5 owners began noticing a bug - 'mm-qcamera-daemon' eating up the battery, then early this month (3 June 2014), the company released v4.4.3 to fix battery draining issue and also other numerous flaws. [For more information click here]
In related news, Google is hosting annual I/O 2014 developer's conference later this month (25-26 June) and is expected to unveil the new OS, probably with nomenclature beginning with 'L.' For last one week, Google has been teasing smartphone with time showing '5:00' hinting the new OS version will 'be v5.0.' Since the launch of v2.3 Ginger Bread OS in late 2010, the search engine always has used time to indicate the current OS version on any smartphone it showcases on official blogs and social platforms (Twitter, Facebook and Google+).
Get the latest #WorldCup match scores and schedules with Google Now on iOS and @Android http://t.co/zvlHtNJqdc. pic.twitter.com/mWmXs99XbX

— A Googler (@google) June 11, 2014
Like always, the new update v4.4.4 will be made available first to Nexus affiliated devices, Google Play edition devices and then to the latest flagship devices of Tier-1 brands.
For those who have not yet received the OTA update and impatient to wait, can go to Android developer's page to manually download the update for their respective devices.
[Disclaimer: This procedure is very technical and should be performed by a person with sound knowledge of manual software installation of Android devices. If the installation process is not followed properly, there are chances of the device getting bricked or may even lead to the device being permanently irreparable. International Business Times, India Edition cannot be held responsible for any damage or claims from readers if the procedure does not yield the required results or if smartphones get bricked. Hence users are advised to proceed with caution or just wait for a day or two to install new software with very less effort via OTA.]
Here are the details of the software update released to Nexus devices:
| | | | |
| --- | --- | --- | --- |
| Model | Device Type | Software build number and version | Factory images Download link |
| Google Nexus 5 aka Hammer Head | GSM/LTE | 4.4.4 (KTU84P) | Link |
| Nexus 7 (2013) aka razor | Wi-Fi | 4.4.4 (KTU84P) | Link |
| Nexus 10 aka Mantaray | Wi-Fi | 4.4.4 (KTU84P) | Link |
| Nexus 4 (Occam) | 3G | 4.4.4 (KTU84P) | Link |
| Nexus 7 (2012) aka 'Nakasi' | Wi-Fi | 4.4.4 (KTU84P) | Link |
| Nexus 7 (2012) aka 'Nakasig' | Mobile | 4.4.4 (KTU84P) | Link |
Note: Google is yet to provide the factory image file to Nexus 7 (2013) aka 'Razorg'.