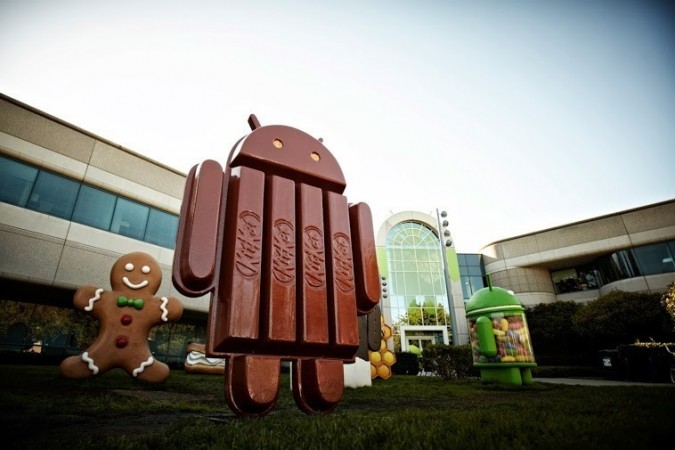 Even though Google's Android team is yet to officially confirm the existence of the rumored v4.4.3 OS update, company has implicitly revealed that the new firmware might be released soon in the change-log of a tablet setup application.
The news was disclosed by tech enthusiast (via Android Central), Jonathan Matthews (@JonMatthews89) while browsing through the change-log of the newly updated 'Google Edu Device Setup' application (it simplifies setting up of tablets purchased through Google Apps for Education to get contents).
@androidcentral Seen the 'What's new' section of this Google app update? https://t.co/NG7B2ltV1s

— Jonathan Matthews (@JonMatthews89) April 20, 2014
In the 'What's New' section, it says that the newly updated app comes with bug fixes, minor UI enhancements, support the new Google spreadsheets, non-nexus tablets and the yet-to-be released 'Android 4.4.3' OS. (To view the page, click here)
The revelation comes just days after Google Nexus 5 (Sprint model in USA) received an OS update (build number: KTU84F). Though many believe that the new firmware is Android v4.4.3, neither the network carrier nor the search engine giant have come forward to confirm the speculations twirling in the Internet, now the app 'Google Edu Device Setup' change-log has almost confirmed the update is on its way.
According to the past report, Android v4.4.3 is expected fix more than 10 major bugs such as Mm-qcamera-daemon, which drains the battery fast, frequent drop in data-connection, Bluetooth, Wi-Fi connectivity issues and more.
Other issues that are expected to get fixed in the upcoming Android v4.4.3 update include:
Power manager display wake-lock fix
Fix for random reboot
App shortcuts will return with security fix with the new update (shortcuts disappeared from launcher after v4.4.2 update)
USB debugging security fix
Minor camera fixes
MMS, Email/Exchange, Calendar, People/Dialer/Contacts, DSP, IPv6, VPN fixes
Stuck in activation screen fix
Missed call LED fix
Subtitle fixes
Data usage graph fix
Internet telephony fix
FCC compliance fix
Miscellaneous fixes
Image credit: Sunder Pichai /Twitter
(Ed: AJ)