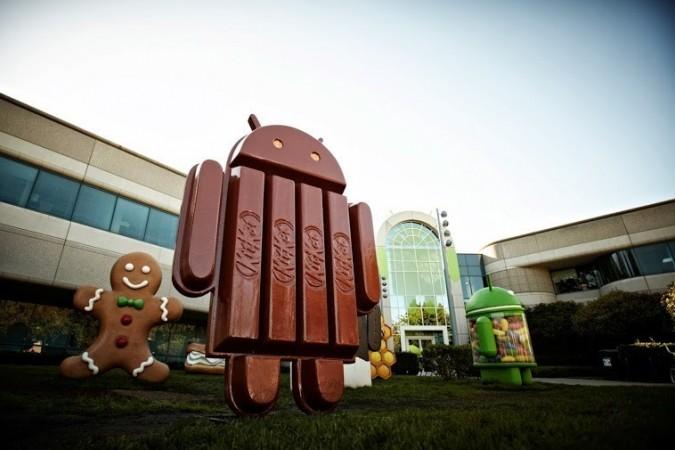 As promised earlier in March, Google's Android team has finally released the new v4.4.3 KitKat to select Nexus devices.
As of now, Google has only released the factory images of v4.4.3 KitKat (build number: KTU84L/M) to select Nexus branded devices- Nexus 5 (GSM/LTE), Nexus 7 2013 edition (Wi-Fi), Nexus 10, Nexus 4, and Nexus 7 2012 edition (Wi-Fi). While there is no official word on when the software update would be made available via OTA (Over-The-Air), it is most likely to be released on air within a day or two.
[Note: Factory images are direct downloadable files from the online server, to download click here]
Since the release of Android v4.4 KitKat in November along with Google Nexus 5, the search engine giant has released two OS updates - KitKat v4.4.1 and v4.4.2 to enhance camera features, performance and interface. But soon after the second update, Nexus 5 owners began noticing a bug - 'mm-qcamera-daemon' eating up the battery.
Now, the new firmware (codenamed: Hammer Head) has been finally been made available bringing balance and fix major bugs, which were reported in Nexus 5 in early March, forcing Android Team to issue statement to acknowledge the problems. One major bug was the Mm-qcamera-daemon, which drained the device's battery fast.
The new v4.4.3 KitKat update brings in card based view for 'Speed Dial', contacts with new accent colors and refreshed phone app, reported Android Central. Besides enhanced UI features, it is said to fix bugs like Mm-qcamera-daemon, frequent drop in data-connection, wireless data transfer issues and more.
Key issues that are expected to get fixed in the Android v4.4.3 update include:
- Frequent data connection dropout fix
- Mm-qcamera-daemon crash and optimization fixes
- Power manager display wakelock fix
- Multiples Bluetooth fixes
- Fix for random reboot
- App shortcuts will return with security fix with the new update (shortcuts disappeared from launcher after v4.4.2 update)
- USB debugging security fix
- Wi-Fi auto-connect fix
- Minor camera fixes
- MMS, Email/Exchange, Calendar, People/Dialer/Contacts, DSP, IPv6, VPN fixes
- Stuck in activation screen fix
- Missed call LED fix
- Subtitle fixes
- Data usage graph fix
- Internet telephony fix
- FCC compliance fix
- Miscellaneous fixes.
Like always, the new update v4.4.3 KitKat will be made available first to Nexus affiliated devices, Google Play edition devices, and then to latest flagship devices of Tier-1 brands.