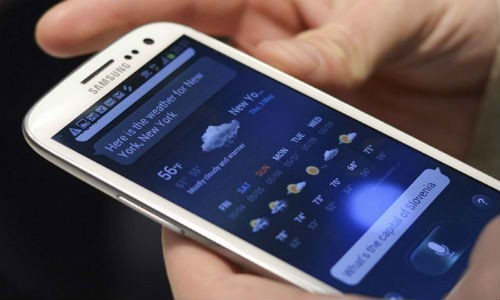 Smartphone leader Samsung has reportedly begun rolling out the Android v4.3 Jelly Bean update to the 2012 flagship model Galaxy S3 in select parts of Europe.
Samsung's dedicated community blog SamMobile has confirmed that the Galaxy S3 (GT-19300) Vodafone variant owners in Ireland have begun receiving the Android v4.3 Jelly firmware. The new firmware is said to be available via OTA (Over-The-Air), as well as PC suite Samsung Kies.
With the new update, Galaxy S3 will now be compatible with Samsung's flagship wearable device Galaxy Gear smartwatch and will also get TRIM support (improves performance), driving mode option, enhanced S-voice search and new camera mode (Sound and Shot as seen in Galaxy S4).
Other enhancements expected to come along with Android v4.3 Jelly Bean update include:
Keyboard and input: The keypad is said get an improved algorithm for tap-typing, making text messaging less cumbersome. It is also said to enhance the gamepad.
Dial Pad: Enhanced Auto-complete feature will predict more accurate phone-numbers and names. Users can go to phone settings to enable or disable the option.
Location: Feature will detect hot-spots without turning on the Wi-Fi mode all the time.
Settings: New tab is introduced to letusers check which apps are disabled or not.
Language support: More dialects are made enabled in this v4.3 Jelly Bean OS and now it can support Hindi as well.
Graphics: v4.3 will now allow smartphones to support the industry's latest Open GL ES 3.0 graphics.
Network: Bluetooth Smart (Low Energy) support will make smartphone consume less power while transferring data.
Daydream: This new feature will enable users to browse through the photos via easily accessible albums.
Restricted Access: Once updated with 4.3 Jelly Bean, users can create profiles for guest users, with restricted access to apps and other contents.
As of now, there is no official word on when the new Android firmware would be pushed for Galaxy S3 in the subcontinent? If the Samsung's OS update release schedule for Galaxy S4 is taken under consideration, Galaxy S3 owners in India can expect the v4.3 Jelly Bean update probably by the end of the week.
Galaxy S4 handsets in India began getting updates within days after Samsung began releasing v4.3 Jelly Bean in Germany and Russia.
Speculation is rife that the South Korean major is also expected to roll out the v4.3 Jelly Bean to Galaxy Note 2, by late November or by the end of December.