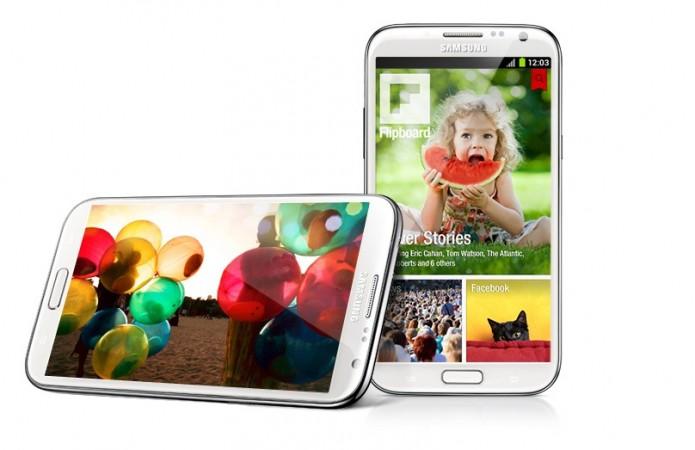 The v4.3 Jelly Bean update for Samsung's 2012 flagship phablet Galaxy Note 2 has reportedly been made available in India.
An Indian Galaxy Note 2 (GT-N7100) owner, by the name Bhanu Soi, claims he got his phablet updated to Android v4.3 Jelly Bean (build number: N7100XXUEMJ9) at a local Samsung service centre, reported SamMobile.
To add weight to his claim, Bhanu posted a screen shot of the software update on his Galaxy Note 2, on his Twitter page. [To view, Click Here]. However, it is still unclear whether the v4.3 Jelly Bean firmware package is available throughout all Samsung service kiosks in India.
So far Samsung has officially released the v4.3 Jelly Bean firmware to Galaxy S4s in October, while Galaxy S3 owners in European regions have started receiving the new OS update earlier this month. If we go by the company's past firmware roll-out plans, Indians need not have to wait much long.
With the new update, Galaxy Note 2 will now be compatible with Samsung's flagship wearable device Galaxy Gear smartwatch. The firmware is also said to improve the memory management, and thereby increasing the efficiency and performance of the device and bring in additional S-Pen functionality as seen on the current flagship model Galaxy Note 3.
Other enhancements expected from Android v4.3 Jelly Bean update:
Keyboard and input: The keypad is said get an improved algorithm for tap-typing, making text messaging less cumbersome. It is also said to enhance the gamepad.
Dial Pad: Enhanced Auto-complete feature will predict more accurate phone-numbers and names. Users will also have the option to enable or disable the feature in the phone's settings.
Location: Feature will enable the phone to automatically detect the Wi-Fi hot-spots, without turning on the Wi-Fi mode all the time.
Settings: New tab is introduced to let users check which applications are active or disabled.
Language support: More dialects are made included in the new v4.3 Jelly Bean OS and now it can support Hindi as well.
Graphics: v4.3 will now allow smartphones to support the industry's latest Open GL ES 3.0 graphics.
Network: Bluetooth Smart (Low Energy) support will make smartphone use less power, while transferring data between devices.
Daydream: This new feature will enable users to browse through photos, via easily accessible albums.
Restricted Access: Once updated with 4.3 Jelly Bean, users can create profiles for guest users, with restricted access to apps and other contents.