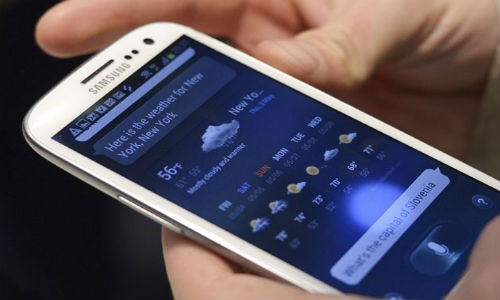 Two months after starting the global rollout of Android v4.3 Jelly Bean OS update to Galaxy S3, Samsung has now made the popular firmware available to Indian consumers.
The new Android v4.3 Jelly Bean update (build version: I9300XWUGML4) is now available for Samsung Galaxy S3 (GT-I9300) in India, via OTA (Over-The-Air) and can also be manually download via Samsung Kies PC, reported AndroidOS.in.
To check for updates on your smartphone:
Go to Settings >> More >> About Device >> Software update >> update
To download via Kies PC companion, click here.
According to firmware change log, the new Android Jelly Bean update will make the 2012 Samsung Galaxy S3 compatible with the Galaxy Gear smartwatch, and also provide performance enhancement via TRIM support, ANT+, new TouchWiz UI, lock-screen, refurbished settings and notification UI, move to SD card feature, camera app Sound and Shot, as seen in the Galaxy S4 and more.
It is to be noted that during the early release of Android v4.3 Jelly Bean update for Galaxy S3 in the US and Europe, the company was forced to temporarily halt the rollout process, owing to glitches found in the firmware. Early adopters of the new update faced issues like sudden freezing of the phone while playing music via Samsung Music app, as well as during multi-tasking, fast battery draining, Wi-Fi & Bluetooth connectivity problems and slow response while on standby mode. Many are hoping that the new update released in India is bug free.
Other improvements expected from Android v4.3 Jelly Bean firmware:
Keyboard and input: The keypad is said get an improved algorithm for tap- typing making text messaging less cumbersome. It is also said to enhance gamepad.
Dial Pad: enhanced Auto-complete feature will predict more accurate phone-numbers and names. Users will also have the options to enable or disable the feature at phone settings.
Location: Feature will enable the phone to automatically detect the Wi-Fi hot-spots without turning on the Wi-Fi mode all the time.
Settings: New tab is introduced to letusers check which applications are active or disabled.
Language support: More dialects are included in the new v4.3 Jelly Bean OS.
Graphics: V4.3 will now allow smartphones to support the industry's latest Open GL ES 3.0 graphics.
Network: Bluetooth Smart (Low Energy) support will make smartphone to use less power while transferring data between devices.
Daydream: This new feature will enable user to browse through the photos via easily accessible albums.
Restricted Access: Once updated with 4.3 Jelly Bean, users can create profiles for guest user with restricted access to apps and other contents.