There is an app for almost everything today, and people are increasingly getting dependent on them for their routine work. In the third quarter of 2017, the app usage continued to increase at a significant pace, with apps running on Google's Android mobile operating system setting records in both usage and downloads during the three-month period.
According to a new report by App Annie, Android phone users around the world spent nearly 325 billion hours in Q3 2017, accounting for an astounding 40 percent annual growth over the same period last year.
"The growth in downloads and usage proves that apps are becoming increasingly central to people's lives, and this value is translating to rising revenue for the industry," the report said.
Meanwhile, Android apps on Google Play maintained a strong lead over iOS apps on Apple's App Store in July-August timeframe. In fact, the gap between Android apps and iOS apps widened to 125 percent, compared to 115 percent in third quarter of 2016, thanks to Google Play's nearly 10 percent yearly download growth, outrunning that of iOS.
In addition, it was increasing number of first-time smartphone owners in emerging markets that fuelled the download growth on Google Play. India, which has been largest market for Google Play downloads since Q4 2016, was the biggest contributor to the Android app download growth by a huge margin.
"Coinciding with the disruptive launch of Reliance Jio's network in September 2016, Google Play downloads in this country have increased at a staggering pace. In Q3 2017, they were nearly twice as high as those in Q3 2016," the report said.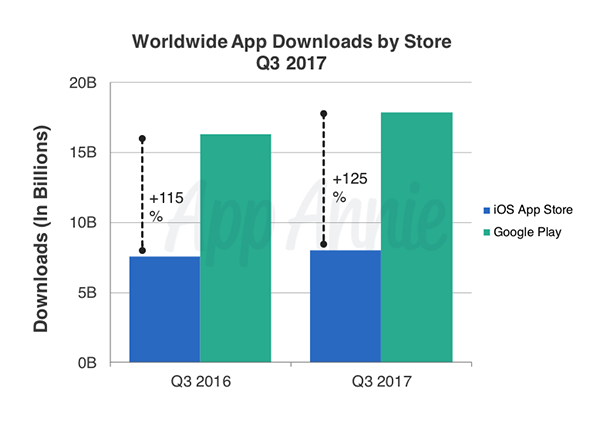 When it comes to iOS, worldwide app downloads on the platform grew 8 percent in Q3 2017 over the previous quarter. It was China that led the iOS charge, followed by the US and Saudi Arabia.
In terms of the money users spent on apps worldwide, the report said that in-app purchases outpaced the increase in downloads by three-fold. In Q3 2017, in-app purchases accounted for an annual growth of 28 percent to reach nearly $17 billion, with iOS users spending nearly double that of Android users even as Google Play store saw more downloads.
The report also forecast that worldwide downloads will reach nearly 240 billion while consumer spending will exceed $100 billion in 2021 on iOS and Google Play combined.