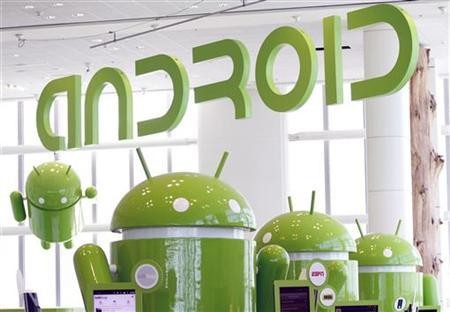 Google's Android operating system (OS) has reportedly topped the global tablet OS market in this second quarter of 2013.
Market watchdog group Canalys said that OEM (Original Equipment Manufacturers) partners - Samsung, Amazon, Lenovo and Acer, each of whom have registered a staggering growth of more than 200 percent, had a huge hand in pushing the Android OS' global tablet share to breach 53 percent this quarter.
Samsung registered a massive year-to-year growth of 294.8 percent in its tablet business with a total shipment of 7.31 million units, whereas Amazon shipped close to 1.55 million units with 265.5 percent growth. Chinese manufacturer recorded highest growth of 317.1 percent, thanks to 1.47 million unit sales this quarter. Acer made 1.47 million unit tablet shipments, 228.1 -percent more growth compared to last year's second quarter.
According to the report, Apple shipped close to 14. 62 million iPads, 14 percent less compared to last year which led the its tablet market share to drop from a dominant 71.2 percent to 42.7 percent this year.
Canalys noted that Apple's decline in shipments and share can be partly blamed on its aging portfolio.
Even when Apple brings in the new range of iPad devices, it may not augur the same excitement which was seen in previous launches, said Canalys analyst James Wang.
"Tablets are now mainstream products and hardware innovation is increasingly difficult. With branded Android tablets available for less than $150, the PC market has never been so good for consumers, who are voting with their wallets," he further noted.
Despite losing such a massive chunk of the market share, Apple is still the reigning leader of the global tablet device market having a healthy lead of close to 21 percent from its second placed arch rival Samsung (21.6-percent). Apple's American counterpart Amazon comes third with 4.5 percent, while Lenovo and Acer round off the top five slots with 4.3 percent market share each.
With the rise in popularity of affordable Android tablets such as Asus Nexus 7, Samsung's Nexus 10, Galaxy Tab and Note series devices, Apple has its task cut-out to bring in innovative iPads to maintain the lead in future.
Global Tablet Shipments and Market Share:
| | | | | | |
| --- | --- | --- | --- | --- | --- |
| Vendors | Q2, 2013Shipments | Market share | Q2, 2012 Shipments | Market Share | Growth(year-to-year) |
| Apple | 14,617,000 | 42.7% | 17,042,000 | 71.2% | -14.2% |
| Samsung | 7,371,000 | 21.6% | 1,867,000 | 7.8% | 294.8% |
| Amazon | 1,550,000 | 4.5% | 424,000 | 1.8% | 265.5% |
| Lenovo | 1,477,000 | 4.3% | 354,000 | 1.5% | 317.1% |
| Acer | 1,457,000 | 4.3% | 444,000 | 1.9% | 228.1% |
| Others | 7,732,000 | 22.6% | 3,809,000 | 15.9% | 103.0% |
| Total | 34,204,000 | 100% | 23,940,000 | 100% | 42.9% |
*tablet shipments also include windows based tablets (slates) as well as hybrid devices