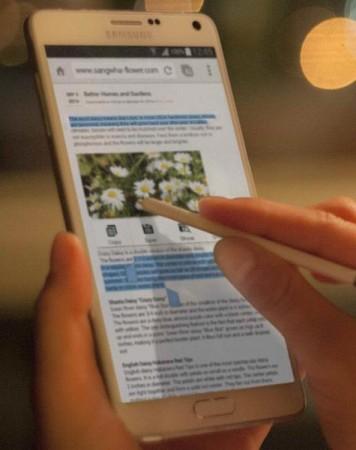 Samsung smartphones aren't usually among the first batch to get the latest Android updates, but they do make headlines when the rollout begins.
The widespread reach of Samsung smartphones in the market makes it an important contender and users look out for any change coming their way. After the massive Android 5.0 Lollipop hit almost every Samsung flagship, it appears the next updates are coming with prominent bug fixes and performance improvement.
According to an exclusive report by SamMobile, which cites reliable sources, Samsung Galaxy Note 4 owners will receive their share of Android 5.1.1 Lollipop update by the end of July. This will put Samsung's flagship device on the latest Android build ahead of other models in the lineup. We are not betting on major changes with the 5.1.1 Lollipop, but users will witness a performance boost and some bug fixes.
But the Android update cycle does not stop at just that as Samsung's flagships, Galaxy S6 and Galaxy S6 Edge, are also due for Android 5.1 sometime between June and July, the site reports.
Unlike in the Galaxy Note 4, the Android 5.1 update on Galaxy S6 and Galaxy S6 Edge will bring host of new features focused mainly on the camera. According to the report, the update will bring a new iPhone-like exposure control to Galaxy S6 and Galaxy S6 Edge that will support shooting in RAW and lower ISO values.
While focusing on the latest flagships, Samsung hasn't forgotten about the older models. As reported by GSM Arena, Samsung will begin rolling out Android 5.0.2 Lollipop update for its Galaxy S5 SM-G900 smartphones this month. The update is a minor one and includes fixes to some known bugs and performance improvements. Samsung is also expected to rollout Android 5.0.2 update for its Galaxy Tab S 8.4 LTE on Verizon's network.
To check if your device is up to date with the latest Android version, go to Settings > About Phone > Software Update and check manually if there are any updates to be installed.