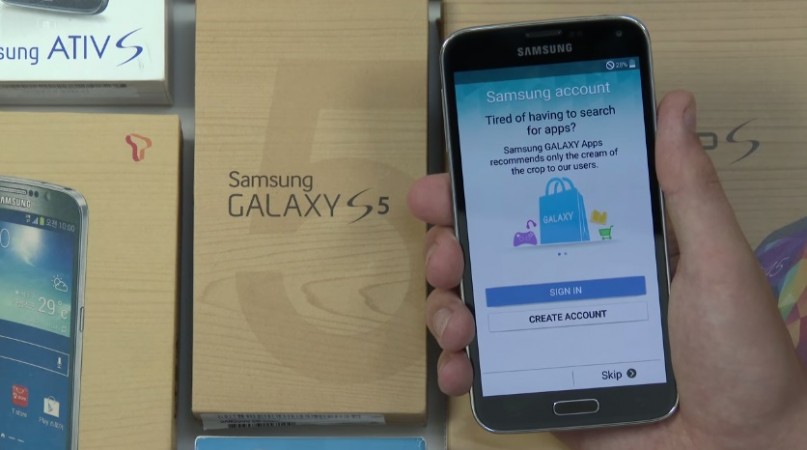 Amid speculations on the release date of Google's upcoming operating system, Android L which was announced at I/O Conference 2014, it has been reported that a test run of the new software's early build on the Samsung Galaxy S5 has found out that it has lots of bugs and too slow for use.
According to a report by SamMobile, an early Android L – LRW58J – test build was run on the Samsung Galaxy S5 for a couple of days but it found that it's still not suitable for use due to presence of "a plethora of bugs and is slow as a turtle." However, the issues are expected to be resolved before its launch.
The build of the firmware may be still in early stages but the website tested it to know how Samsung would implement TouchWiz into Android L, as it has to make several changes to comply with Google's design guidelines. Various updates have been showcased in an eight minute video uploaded on YouTube.
SamMobile reported that "OEMs are still using their old interfaces on top of Android L" but Samsung's apps like Dialler, Messages, Memo, Clock and others have been revamped in compliance with Material Design guidelines. It went on to say that Samsung's software engineers have to work on several issues, including inconsistency in the UI, as the build is still in early stage.
The new software, which was announced at the I/O conference, is very likely to be released along with either the HTC Nexus 9 or the Nexus 6 aka Nexus 6, which are expected to see the light of the day in the last week of October. However, Android Authority claimed that the final version of Android L won't be officially available until 1 November.
There has been debate over what the letter "L" could stand for with reports suggesting several names like Lion, Lollipop, Licorice and Lemon Meringue Pie but Tech Radar claimed citing Google's post of a cake topped with lollipops on its 16th birthday that the new software could be named after Lollipop.
Considered to be Google's biggest update to its mobile platform till date, Android L will come with a redesigned interface and fluid animations besides several other features. It will also improve battery life and compatible with 64-bit processors. Several devices like the Nexus 4, Nexus 5, Nexus 7, Nexus 10, HTC One, HTC One (M8), Moto G (2nd generation Moto X too likely to get), Samsung Galaxy S5, Galaxy Note 4 and latest smartphones from LG are expected to get the new firmware update when it is launched.
(Image Credit: Screenshot from SamMobile YouTube Video)