Search engine giant Google launched the Pixel 2 in India on November 2. It is smaller one of the two newly unveiled second generation Android flagship phones, the other being the Pixel 2 XL and is scheduled to hit stores later this month on November 15.
In India, Pixel 2 64GB can be bought for Rs 61,000, whereas at 128GB comes with a Rs 70,000 price-tag. On the other hand, the Pixel 2 XL 64GB costs Rs 73,000 and 128GB variant is Rs 82,000.
Both the Pixel 2 series devices flaunt same design language on the back. They come with dual-tone glass and metal finish similar to the predecessor. However, they have minor changes in design: The glass will cover only the topmost part, while most of the rear will have a metal shell. The fingerprint scanner will be out of glass enclosure. Another key change is that the successors will be devoid of a 3.5mm audio jack port.
On the front, Pixel 2 XL sports 6.0-inch fullscreen having QHD+ (2880x1440p) pOLED display with 18:9 aspect ratio and 3D Gorilla Glass 5 shield, whereas the Pixel 2 sports smaller 5.0-inch full HD (1920x1080p) AMOLED screen with 16:9 aspect ratio and 2.5D Gorilla Glass 5 protective cover on top.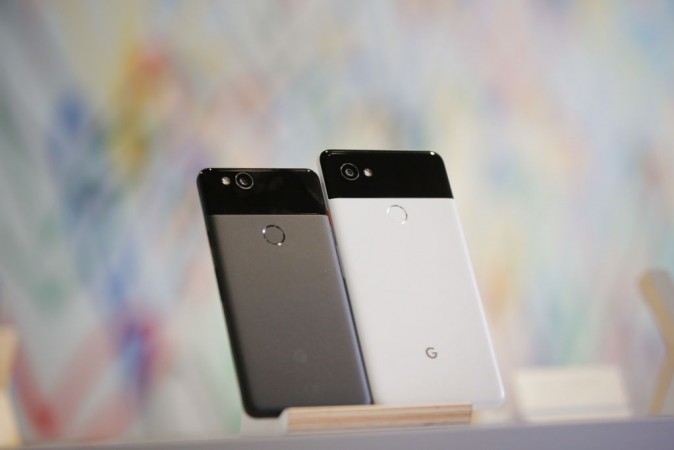 Except for the battery capacity, rest of the internal hardware is same in both the devices. The Pixel 2 series boasts Active Edge similar to HTC U11 series. Users can use to invoke Google Assistant just by squeezing the frame on the sides. It even works when the phone is used with a mobilke cover but the user has to increase the sensitivity level of the feature in the settings.
Like last year, the USP of Google Pixel 2 series is the camera hardware. Global camera standard ranking agency DxOMark has given impressive 98 points, making it the highest rated camera phone in the market. It beats rival iPhone X (also iPhone 8 series) and Samsung Galaxy Note8 by several notches.
It boasts 12.2MP snapper with f/1.8 aperture, 1.4μm lens size, Autofocus with laser + dual pixel phase detection, optical + electronic image stabilization and on the front, it houses 8MP shooter with 1.4μm lens size, f/2.4 aperture and fixed focus.
It also comes with Google Lens—a new set of visual features that help the users learn to get more things done. Device owners will be able to look up landmarks, books, music albums, movies, and artwork, right from Google Photos on their Pixel 2 series phone. They can also take an action like asking Google Lens to copy URLs and contact information from a picture of a poster or business card. Google has promised to add more capabilities, as well as the ability to use it in the Google Assistant in coming weeks.
Other stipulated features include IP67 water-and-dust resistant certification, aluminium body, Android 8.0 Oreo, 4GB RAM, Qualcomm Snapdragon 835 octa-core, 64GB/128GB internal storage and Bluetooth v5.0, other standard connectivity features.
Stay tuned. Follow us @IBTimesIN_Tech on Twitter for latest updates on Google products.
Key specifications of Google Pixel 2 and Pixel 2 XL:
Model
Pixel 2 XL
Pixel 2
Display
6.0-inch fullscreen QHD+ (2880x1440p) pOLED

Aspect ratio: 18:9
Pixel density: 538 ppi (pixels per inch)
Protection: 3D Corning Gorilla Glass 5
Always-on Display
100% DCI-P3 coverage
Contrast ratio: 100,000:1
True black level
Full 24-bits depth/ 16.77 million colors

5.0-inch cinematic full HD (1920x1080p) AMOLED

Aspect ratio: 16:9
Pixel density: 441 ppi (pixels per inch)
Protection: 2.5D Corning Gorilla Glass 5
Always-on Display
95% DCI-P3 coverage
Contrast ratio: 100,000:1
True black level
Full 24-bits depth/ 16.77 million colors

OS
Android Oreo 8.0
Android Oreo 8.0
Processor
64-bit class Qualcomm Snapdragon 835 octa-core (2.35Ghz Kryo core x 4 + 1.9Ghz Kryo core x 4) + security module
64-bit class Qualcomm Snapdragon 835 octa-core (2.35Ghz Kryo core x 4 + 1.9Ghz Kryo core x 4) + security module
GPU
Adreno 540
Adreno 540
RAM
4GB
4GB
Storage
64GB/128GB
64GB/128GB
Camera
Main:12.2MP with 1.4μm lens size, Autofocus with laser + dual pixel phase detection, Optical + electronic image stabilization, f/1.8 apertureRear Camera Video:

1080p @ 30fps, 60fps, 120fps
720p @ 30fps, 60fps, 240fps
4K @ 30fps

Front: 8MP with 1.4μm lens size, f/2.4 aperture, Fixed focus

Front Camera Video:

1080p @ 30fps
720p @ 30fps
480p @ 30fps

Main:12.2MP with 1.4μm lens size, Autofocus with laser + dual pixel phase detection, Optical + electronic image stabilization, f/1.8 apertureRear Camera Video:

1080p @ 30fps, 60fps, 120fps
720p @ 30fps, 60fps, 240fps
4K @ 30fps

Front: 8MP with 1.4μm lens size, f/2.4 aperture, Fixed focus

Front Camera Video:

1080p @ 30fps
720p @ 30fps
480p @ 30fps

Audio

Stereo front-firing speakers
Bluetooth 5.0 + LE
Wireless HD audio with LDAC, Qualcomm® AptX™ and AptX HD™ audio codecs supported
USB-C™ port to use with your own USB-C digital headphones

Headphone Adapter to connect a 3.5mm jack to your Pixel
3 mics
Noise suppression

Stereo front-firing speakers
Bluetooth 5.0 + LE
Wireless HD audio with LDAC, Qualcomm® AptX™ and AptX HD™ audio codecs supported
USB-C™ port to use with your own USB-C digital headphones

Headphone Adapter to connect a 3.5mm jack to your Pixel
3 mics
Noise suppression

Battery
3,520mAh with fast charging capability

Up to 7 hours of go with 15 minutes of charge
USB-C 18W charging plug

2,700mAh with fast charging capability

Up to 7 hours of go with 15 minutes of charge
USB-C 18W charging plug

Network
4G-LTE with VoLTE (Voice-over-LTE)
4G-LTE with VoLTE (Voice-over-LTE)
Add-ons
Active Edge, fingerprint sensor, single-SIM (type: nano), IP67 water-and-dust certification, aluminium body cover, 1st Gen Type C USB v3.1, Bluetooth v5.0, Wi-Fi (02.11 a/b/g/n/ac 2x2 MIMO; dual-band: 2.4GHz & 5GHz), NFC (Near Field Communication), GPS/GLONASS
Active Edge, fingerprint sensor, single-SIM (type: nano), IP67 water-and-dust certification, aluminium body cover, 1st Gen Type C USB v3.1, Bluetooth v5.0, Wi-Fi (02.11 a/b/g/n/ac 2x2 MIMO; dual-band: 2.4GHz & 5GHz), NFC (Near Field Communication), GPS/GLONASS
Dimensions
157.9 x 76.7 x 7.9 mm
145.7 x 69.7 x 7.8 mm
Weight
175g
143g
Colours
Just Black/ Black & White combo
Just Black, Clearly White and Kinda Blue
Price

64GB: Rs. 73,000
128GB: Rs. 82,000

64GB: Rs. 61,000
128GB: Rs. 70,000