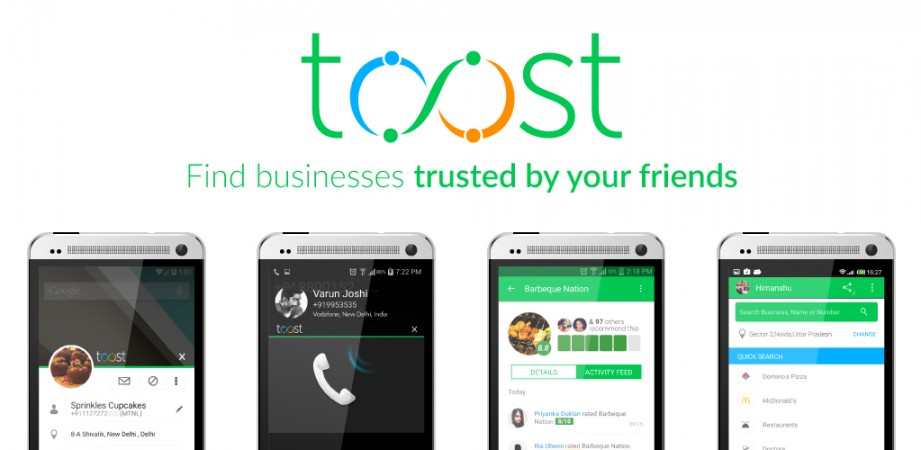 Indian app developer Phone Warrior has launched a new app, Toost, that allows users to find trusted local service providers based on their friends' experiences. The app boasts of free caller ID, mobile number locator, and a spam blocking feature. Toost is now available for downloading at Google Play Store.
As mentioned above, Toost provides assistance in finding trusted local service providers used by friends. It can help you locate the address of a carpenter, doctor, electrician, or a driver.
For providing a practical and beneficial option to mobile users, it assures reliability as the decisions are based on trust and word of mouth instead of depending on the information from archaic local search market. Being driven by technology and not relying on feet-on-street models, Toost is a globally relevant, scalable, repeatable, and flexible business model. It is uniquely-positioned to serve the ever-shifting consumer needs with fresh and rich data, delivered in real time.
The app is driven by friends' recommendations, based on their personal experiences and the level of connection with the business. It is the digital equivalent of word of mouth that everyone relies on, but powered by the phone graph and user community's contributions. At present, the app has a database of over five million businesses and over 750m unique people and business identities on the graph.
Rohit Raghav, co-founder of Toost, said, "Local business search is treated as a utility service where providing name, number and address of the business is considered adequate. However, the highly unorganized and no-quality-control market leaves people high and dry with painfully bad service quality. This is an absolute no for today's busy and mobile consumer. Toost deploys globally unique phone-graph based technology innovation to transform local search into social & mobile search. It gets users the businesses that their friends use and trust and also helps them engage with their friends in choosing the right service provider. Toost's powerful and proprietary technology is set to end the rudimentary ways local search is done today."
The app is compatible with devices running on Android version 2.1 and up. You can download the app from here.