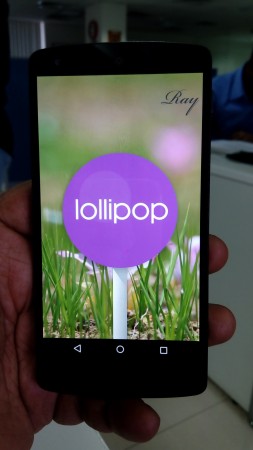 There are already some rumours that Google might launch its next Android update 5.1.1 later this week, but a handful of lucky devices have already received the update.
According to Google's Android Distribution numbers report the numbers of Android 5.1 users is only 0.4% of all Android devices. So stop feeling being an unlucky person and cursing your smartphone manufacturer for not providing the update yet. The update might be available pretty soon. Meanwhile, read the below-mentioned features that has been introduced to this version along with thousands of improvements and bug fixes.
Smart Notifications
Understanding the necessity of notification, the latest version adds an interesting option. The priority notification now offers you to set interruption preferences according to your choice. The latest addition allows you to add indefinite priority interruption or up to a mentioned time.
Drop-down Notifications
The latest update adds an interactive notification pop-up even while you are busy watching a video. Appearing from the top with a slide-down motion, the notification can be dismissed by swiping it up and can later be checked by dragging down the notification menu.
One-Touch Connection
The new update adds Wi-Fi and Bluetooth connectivity direct on the drop-down notification screen. So you don't need to head to settings menu for connecting or switching to other network. The Wi-Fi and Bluetooth icons add a drop-down arrow, clicking on this you'll be prompted with a list of available networks or devices.
Now you can also change the Wi-Fi bandwidth you need to connect to. For example, you can switch to 2.5GHz bandwidth to 5GHz bandwidth or vice versa.
Enhanced Cosmetic Interface
The Android 5.1 Lollipop adds lots of colours in the text labels to make every corners of the interface look more colourful and lively. The contact menu looks much better than the previous update and able to show contact pictures. To make it jazzier, the update includes some animated icons for clock widget and screen rotation option.
Screen Pinning
This feature is an important addition to the device security. The option allows you to lock the device display to an app or folder so that no one can go beyond that without your permission. Using this option you can now share your device to someone else without thinking twice about the archived data.
The pinned app/folder won't allow anyone to go beyond that screen until you put the pin password. For accessing this feature you need to head to System>>Security.
More Security
The Android 5.1 Lollipop adds a new lock feature to secure you device. Named Device Protection, the feature makes the device unusable if someone steals and factory reset the device. The device will remain unusable until the user logs in with your correct Google Login ID and password.