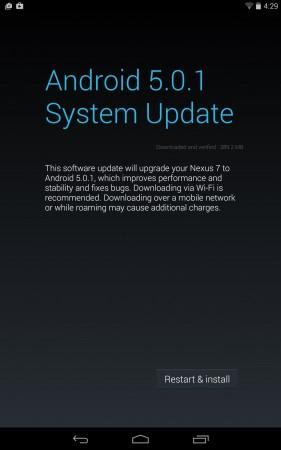 After weeks of wait, Google has finally released the much-awaited software patch Android 5.0.1 Lollipop update OTA (Over-The-Air) to select Nexus devices.
Our Nexus 7 (2013 edition Wi-Fi only) model just received the Android 5.0.1 Lollipop update (build number: LRX22C) notification. It is 389.2 MB in size and is said to improve performance, stability and fix some bugs.
Users can check for OTA update on their device by going to-
Settings >> About Phone/Tablet >> System update >> check now
Though there is no specific details regarding bug fixes, we believe that the new 5.0.1 is likely to sort out the flaws found in Wi-Fi tethering, SMS apps, app switcher and other minor bugs.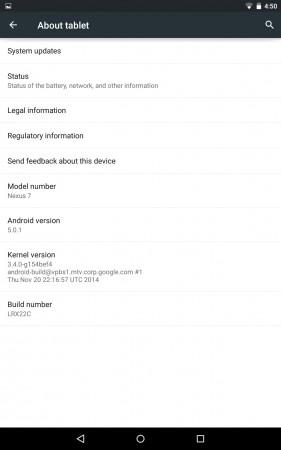 [Note: In India and select regions, Google skipped 5.0 update to some Nexus devices and has directly released the new 5.0.1 Lollipop]
Besides, Nexus 7 (2013 Wi-Fi only model), Android 5.0.1 Lollipop OTA update is released to Nexus 4, Nexus 6 and also to Moto G GPe (Google Play edition).
Last week, HTC began OTA roll-out process for One M7 and M8 GPe models.
[Read More: Android 5.0.1 Lollipop Now Seeding to HTC One M8, M7 GPE Models]
Android 5.0 Lollipop Bug Report Recap:
Soon after the official roll-out of Android 5.0 in mid-November, some Nexus 5 (and Nexus 7 as well) owners had claimed that they were having trouble tethering to Wi-Fi modems, despite entering the authorised password. The Nexus devices are said to show "Connecting", which becomes "Saved", but never connects.
Even Google's project member had acknowledged the issue under the label - 'defect-18035251' and assured to escalate the issue to the developers' team.
Some people even complained about the bugs in the app switcher, which made random apps to pop up even after exiting it. Second bug in the SMS apps, made message sending disabled in select Nexus 6, 5, 4 and some select Moto X (2014) devices.
For those impatient Nexus users, who can't wait for OTA update, Google has provided manual downloadable factory images. Tech savvy people can side-load latest Android 5.0.1 Lollipop update from the given links below.
Here are details of the new Lollipop 5.0.1 software update released to Nexus devices:
| | | | |
| --- | --- | --- | --- |
| Model | Device Type | Software build number and version | Factory images Download link |
| LG-Google Nexus 4 aka 'Occam' | GSM | 5.0.1 (LRX22C) | Link |
| Motorola Nexus 6 aka 'Shamu' | GSM | 5.0.1 (LRX22C) | Link |
| Asus Nexus 7 (2013) aka 'Razor' | Wi-Fi only | 5.0.1 (LRX22C) | Link |
| LG Nexus 9 aka 'Volantis' | Wi-Fi only | 5.0.1 (LRX22C) | Link |
| Samsung Nexus 10 aka 'Mantaray' | Wi-Fi only | 5.0.1 (LRX22C) | Link |
Note: Google is yet to provide the factory image file to Nexus 5, Nexus 5, cellular versions of Nexus 7 (2013) aka 'Razorg' and Nexus 7 (2012) aka 'Nakasig'. [More Information, HERE]
[Disclaimer: This procedure is very technical and should be performed by a person with sound knowledge of rooting (or manual software installation) Android devices. If the step-by-step installation process is not followed properly, there are chances of the smartphone getting bricked or being permanently irreparable. International Business Times, India Edition cannot be held responsible for any damage or claims from readers if the procedure does not yield the required results or if the smartphone is bricked. Hence users are advised to proceed with caution or just wait for a day or two to install new software with very less effort via OTA.]