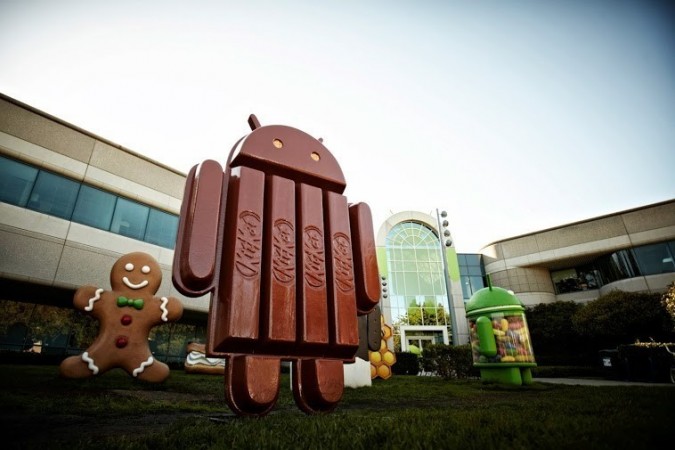 Amid reports that the much-hyped Android 4.4.3 KitKat update would be made available for Nexus devices and Google Play editions of several devices, a leaked changelog of the firmware has hinted that two new Google devices codenamed Flounder and Molly will arrive soon.
The reported changelog of Android 4.4.3 KitKat published on the Android Open Source Project (ASOP) has referred to HTC-made Flounder, sparking off speculations that a new Nexus device would be released soon, according to ZDNet. It is expected to be released at the Google I/O Conference to be held on 25 and 26 June in San Francisco.
Google has used fish names like Mako, Manta, Hammerhead, Grouper and Razor for its nexus devices in the past, so it speculated that that Flounder could be possibly referred to Nexus 8. The codename Molly is also speculated to refer to Android TV.
The Android 4.4.3 KitKat update changelog has been deleted from ASOP, but it is still available on GitHub.
It is reported that Nexus 5 and Nexus 7 will be the first devices to get the new firmware, perhaps this month, to be followed by Nexus 4 and Nexus 10. The firmware update will also be made available for Google Play editions of several smartphone makers like Samsung, HTC, Sony, LG and Motorola in the coming months.
Android 4.4.3 KitKat will be available for Samsung devices - Galaxy S4, Galaxy S5, Galaxy Note 3, Galaxy Tab 4, Galaxy Tab Pro 8.4, Tab Pro 10.1 and Tab Pro 12.2; Motorola devices - Moto X, Moto G and Moto G Google Play edition; HTC devices - HTC One M8, HTC One M7 and HTC One M8 Google Play edition; Sony products - Xperia Z Ultra Google Play edition, Xperia Z2 Google Play edition, Xperia Z2, Xperia Z2 Tablet; LG devices - LG G2, G Pad 8.3 and LG G3, according to reports.
The upcoming firmware will enhance performance of smartphones and fix bugs like reboots and problems with Bluetooth and Wi-Fi connectivity, according to HTC ROM developer and leakster, LLabTooFeR.