Search engine giant, Google has rolled out the new Android 4.4.3 KitKat to company affiliated Nexus devices in India.
The new OS update was first released on 2 June at Android developer's website via factory images (manual downloadable file) to Nexus 5, Nexus 7 (2012 & 2013 editions), Nexus 10 and Nexus 4 and later the OS was rolled out via OTA (Over-The-Air) in North America and now finally it has been made available in the subcontinent.
To check for update:
Go to Settings >> About Phone >> tap System updates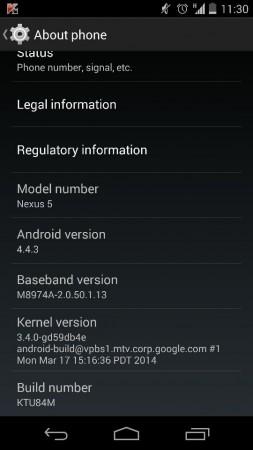 The new updates (KTU84M for Nexus 5 and KTU84L for Nexus tablets and Nexus 4) are said to bring in enhanced Speed Dial', contacts with new accent colors, refurbished phone app interface and security enhancements. Besides enhanced UI features, it is said to fix bugs like Mm-qcamera-daemon, frequent drop in data-connection, wireless data transfer issues and more.
The key issues that are expected to get fixed in the Android v4.4.3 update include:
Frequent data connection dropout fix
Mm-qcamera-daemon crash and optimization fixes
Power manager display wakelock fix
Multiples Bluetooth fixes
Fix for random reboot
App shortcuts will return with security fix with the new update (shortcuts disappeared from launcher after v4.4.2 update)
USB debugging security fix
Wi-Fi auto-connect fix
Minor camera fixes
MMS, Email/Exchange, Calendar, People/Dialer/Contacts, DSP, IPv6, VPN fixes
Stuck in activation screen fix
Missed call LED fix
Subtitle fixes
Data usage graph fix
Internet telephony fix
FCC compliance fix
Miscellaneous fixes.
As always, the new update v4.4.3 KitKat has made available first to Nexus affiliated devices and Google Play edition devices, soon Google's Tier-1 OEM (Original Equipment Manufacturers) partners like Samsung, LG, Sony and HTC are expected to follow suit.
Google's formerly owned company, Motorola is the first OEM to announce details pertaining to the release of latest Android 4.4.3 KitKat update to its devices. Moto X, Moto G and Moto E are slated to receive update by this weekend. The company has already begun the process for the flagship Moto X (T-Mobile) variant in the USA.
According to the change-log, Motorola devices are said to get several stability, framework and security fixes in addition to accuracy improvements to the power profile of the smartphones.
Moto X will also get an additional feature update for camera. It is said to improve camera image quality including better consistency of exposure, more realistic flash coloring, improved photos in low light conditions using front camera.