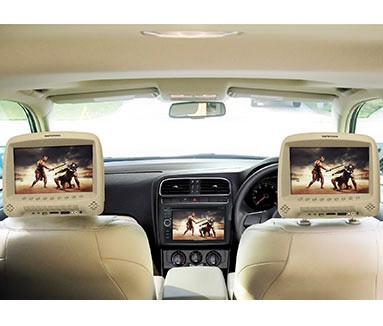 MapmyIndia has launched India's first complete connected car infotainment system. The high quality package seamlessly synergizes the front and rear-seat systems to offer a infotainment experience to Indian consumers.
In the package, there is a universal ANDROID 2-DIN system, which is paired with two rear seat headrest displays. Although the control lies with the front seat unit, the rear-seat headrest screens are equipped with a built-in DVD player, USB and SD Card slots. The rear seat passengers can choose to what to watch and can enjoy a movie, listen to songs or just play games of their choice using the input device/slots provided.
"The Indian customers will now have the comfort of buying a quality product that takes care of the front and rear passengers from a well established brand. We have been working with leading automakers for more than a decade and have studied the consumer closely. Our automotive Navitainment range of products draw heavily from this experience," says Rakesh Verma, Managing Director, MapmyIndia
The ANDROID UNIVSERSAL 2-DIN system comes with a custom designed user interface, especially developed for car travel giving instant alerts and information about places along the route interface with MapmyIndia's Turn-by-Turn Navigation and apps like Explore, ReachMe and so on.
The users can also use a variety of Android apps with the system. The 2-DIN system has been designed to complement the instrument clusters of most of the cars. The back seat universal headrest system comes with multiple colour cover (Black, Grey and Beige) to match most car interiors.
The Android variant has been priced at ₹50,800 and the users can also choose the Universal 2-DIN system (standard 2 Din AV systems), which has been priced at ₹41,300. Consumers can buy the product from all leading car showrooms and car accessory outlets across the country.
Key Specifications of Android 2-Din:
Front Unit – Android 2-DIN in-dash
ARM Dual Core Cortex A9 1GHz Pro-cessor
Android 4.1 Jelly Bean
15.75cm WVGA Digital TFT LCD Dis-play at 800×480 pixels resolution
1GB DDR3
Built-in MapmyIndia All India Naviga-tion (map in Micro SD card)
Front SD/USB/AV-IN
4 channels × 45W MAX Power Out-put
Built-in Bluetooth
Rear Screens
22.9cm TFT screen (2 nos.) at 800x480 pixels resolution, 16:9 aspect ratio
2 A/V input, 1A/V output
12V DC Power supply
Built-in stereo speaker
DVD Player can support VCD/SVCD/CD/MP3/MP4/ GAMES Wire games stick/USB/SD/MC/MMS
MMC, MS & USB slot
Built-in game function (optional)
Black, Grey, Beige color selection
Perfect outline design
Dimension: 265mm X 226mm X 139mm