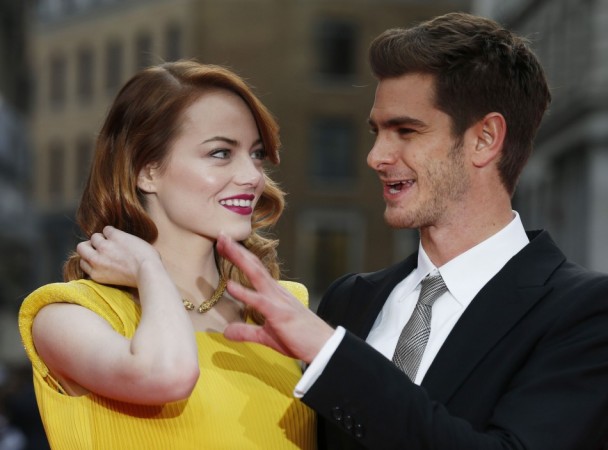 Andrew Garfield and Emma Stone were undoubtedly one of Hollywood's cutest couples for the last three years, until they called for a break last month. And now, after a "so-called" short split, things are looking back on track for "The Amazing Spider-Man" co-stars.
Though it has been widely reported that the celeb couple is spending some time apart, it now comes out that Garfield and Stone "never" really officially broke up.
"It was always a 'break' due to schedules," a source tells E! News. "They have been really busy, so they finally have had time to see each other again. They care for each other and always have the best time when together."
As we all know, Garfield has been busy shooting for Martin Scorsese's latest film "Silence" in Taiwan and Stone has been running around promoting "Aloha" with her co-star Bradley Cooper. And this is one of the biggest reasons we haven't seen the couple attend any public event together since early January.
Fans of Garfield and Stone began feeling hopeful after the couple was spotted spending time together on multiple occasions.
The two stars were seen holding hands and getting friendly as they enjoyed a meal at a eatery in Malibu Farm, California last weekend.
"The two stopped in Malibu Farm this week and seemed to be having a great time as they held hands inside the restaurant," the report said.
Along with this sighting in Malibu, the 26-year-old actress and the 31-year-old actor also went on a sushi dinner date on Wednesday.
According to reports, Stone and Garfield have been finding more time to be with each other and are showing off some PDA.
"The two lovebirds stepped out to Sushi Park in West Hollywood on Wednesday for some dinner and weren't shy about showing off some PDA. According to an eyewitness, the pair "definitely looked like they were back together," the website reported.
It further stated that Stone and Garfield sat at the sushi bar, dressed in casuals for their meal. And apparently, Amy Poehler was accompanying the couple.
"Garfield wrapped his arm around his lady at one point, and an eye witness spotted fellow celeb pal Amy Poehler at the restaurant before leaving. The famous trio stopped and chatted for a few minutes before leaving the venue," the report said.
Well, it seems like this Andrew Garfield-Emma Stone split, never really was.