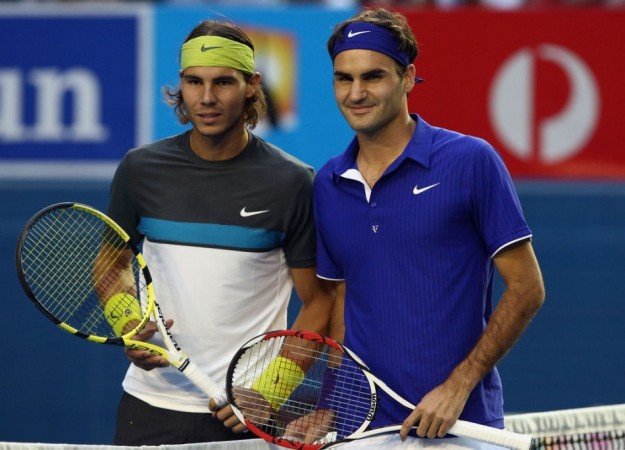 Who'd you pick as an all-time great? Rafael Nadal or Roger Federer? Very difficult to make up your mind? Well, Andre Agassi is clear about his decision and has a solid explanation to back it.
The American legend Agassi said on Thursday, he'd pick Nadal over Federer as an all-time great simply because the Spaniard has faced challenges up front.
"I'd put Nadal number one, Federer number two," Agassi told Singapore's Straits Times in an interview.
"Federer separated himself from the field for four years. He separated himself from [Andy] Roddick and [Lleyton] Hewitt.
"Nadal had to deal with Federer, [Novak] Djokovic, [Andy] Murray in the golden age of tennis. He has done what he has done and he's not done yet."
He might not be done yet, but Federer himself believes he'd not done yet either. The Swiss champ holds a record 17 Grand Slam titles against Nadal's 13. They are both great in their own right, but the eight-time Grand Slam-winner - Agassi opines Nadal has more potential to further that greatness.
With one more Australian Open title in the collection, Nadal would have won all-four Grand Slams twice - only two other men have achieved that feat.
"He has won multiple majors, every single one [more than once] except the Australian Open -- and give him another year on that," Agassi declared.
"It's just remarkable to me what he has done, and he has done it all during Federer's prime."
Changing subjects to the Mahesh Bhupati owned International Premier Tennis League, which is promised to take place at the end of this year. Agassi said he'd definitely be a part of the Singapore leg of the inaugural event.
"It seems like it's all happening," Agassi said. "I just can't make any promises I can't control. What I can't control is if [the event] really exists or not.
"But if it's happening, I'm absolutely going to be there and I will spend time leading up [to the event] playing."