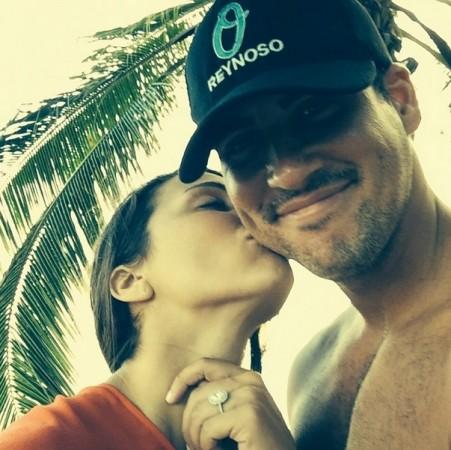 Ever since Nick Viall announced that he slept with Andi Dorfman during their Fantasy Suite dates, rumors of the Bachelorette's relationship with her fiancé Josh Murray being on shaky ground has been doing the rounds.
But, on Sunday, she quashed these rumors with a photograph of herself in bed with her fiancé.
Sunday morning... @jmurbulldog pic.twitter.com/J5NeiOL1D3

— Andi Dorfman (@AndiDorfman) August 3, 2014
Both Dorfman and Murray live in Atlanta, and their Twitter activity indicates that they are spending all their free time together. Reportedly, they are also busy planning their wedding.
However, like every other couple who have found love on the dating reality show, Dorfman and Murray, too, have been dogged by split rumors. A reason for the alleged split, as several reports indicate, is Dorfman's decision to sleep with Viall on the Fantasy Suite date.
A Life & Style source recently revealed that Murray has become controlling and jealous ever since Viall dropped the bombshell that he and Dorfman "made love." Dorfman's interactions with the other contestants has also become a bone of contention.
"Josh can be controlling and jealous," the insider said. "He's very insecure about the relationship, and even more so after watching everything unfold on TV and seeing Andi tell other guys she's in love with them."
"She's a fiercely independent person and loves going out with her friends," the source added. "At first, she thought his jealousy was cute, but now that they're not hiding their relationship, he's jealous all the time and I'm not sure how cute she's finding it."
However, their Twitter activity paints a different picture.
Ever since their engagement was announced in the season 10 finale of "The Bachelorette," Dorfman has been busy posting pictures of hers with Murray on her social networking platforms. Most of these pictures show the couple enjoying each others' company, and they seem to be unaffected by split and cheating rumors.
Dorfman and Murray announced at the "After the Final Rose" special that they're planning a spring wedding, and it was later reported that the ceremony will be televised on ABC.
Check out some of Dorfman's tweets below.
Ahhhh we are going home! ATL here we come! @jmurbulldog #TheBachelorette pic.twitter.com/JvNWsWYbEK — Andi Dorfman (@AndiDorfman) July 30, 2014
In love with this ring but more in love with the man who gave it to me! @jmurbulldog #neillane #TheBachelorette pic.twitter.com/WM62jjmtQg

— Andi Dorfman (@AndiDorfman) July 31, 2014
The family that frowns together stays together @jmurbulldog #grumpysabel pic.twitter.com/g19Iobz338 — Andi Dorfman (@AndiDorfman) August 1, 2014