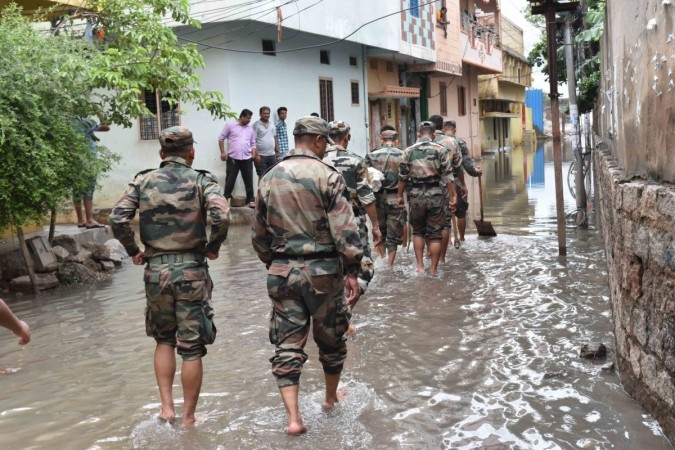 The Central government, in preparation for more damage from the late-monsoon rains in Andhra Pradesh and Telangana, has deployed teams of the National Disaster Response Force (NDRF) in these two states as well as in Karnataka to its flood-prone regions.
Meanwhile, potholes are posing a problem to people in AP and Telangana, with a recent video that surfaced showing a man on a scooter in Hyderabad falling into an open manhole which he did not see on an inundated road. The incident reportedly took place on Saturday, September 24.
The video shows the man riding the scooter on a flooded street in the Nizampet area of Hyderabad. Onlookers — who seem to have had knowledge of the pothole — tried to get the scooter-rider's attention by shouting at him, but he does not heed them and ends up going headlong into an unusually deep pothole. He was apparently rescued later.
Watch the video here:
Meanwhile, an official statement from the home ministry said nine NDRF flood rescue teams "comprising 309 rescuers, equipped with 32 Inflatable Rubber Boats (IRBs) and latest communication equipment, have been pre-positioned at various rain-affected areas of Andhra Pradesh." Of these, three are in the Peduguralu, Narsarapet and Amravati areas of the Guntur district, one each is in Hyderabad and Visakhapatnam and two each in the Srikakulam and Nellore districts.
The statement also said five teams "comprising 158 rescuers, equipped with 16 IRBs and latest communication equipment, are pre-positioned at various flood prone areas of Telengana." Medak and Nizamabad have one team each, while three are in Hyderabad.
Another three NDRF teams "comprising 84 rescuers, equipped with 10 IRBs and latest communication equipment, are deployed at various flood-prone areas of Karnataka," said the home ministry statement. The teams are divided between the Bidar, Kalaburagi and Bengaluru districts.
There are another 17 NDRF teams — all equipped for flood rescue — posted across all the other states of India, the statement said.