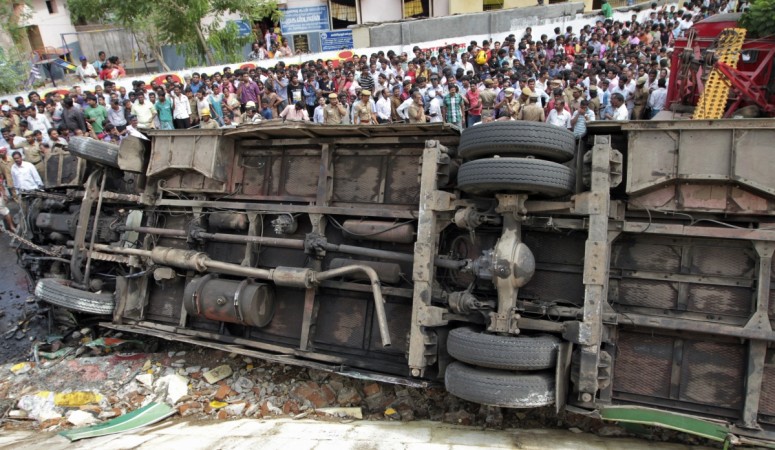 At least four students of Hyderabad's Osmania Medical College were killed and 31 others injured after the private bus in which they were travelling hit a tree and overturned on the Vijayawada-Hyderabad highway in Gollapudi late Monday night.
The deceased have been identified as fourth year MBBS student P Rajaram, house surgeons Giri Lakshman and M Vijay Teja. All the three, along with the driver, died on the spot, while the fourt student, M Pranay, succumbed to his injuries at a hospital in Gollapudi. The injured students were shifted to a hospital in Vijayawada.
The driver is suspected to be drunk and he was apparently driving the bus at a high speed, Indo-Asian News Service quoted the police as saying. Students also alleged that the driver, who was also killed in the accident, was drunk while driving.
"We suspected that the driver was drunk and we called the bus operator to change the driver. The operator assured us that the driver would be changed at Vijayawada but that did not happen. The drunk driver was driving the vehicle at a high speed when it rammed into a roadside tree," Press Trust of India quoted some of the survivors as saying.
The accident happened when victims were returning to Hyderabad from Amalapuram in Andhra Pradesh's East Godavari district after participating in a sports tournament.
Telangana Health Minister P Laxma Reddy visted the injured students and said their medical expenses will be taken care by the state government.
"We will take necessary action against those responsible for the accident after an inquiry," PTI quoted Reddy as saying.