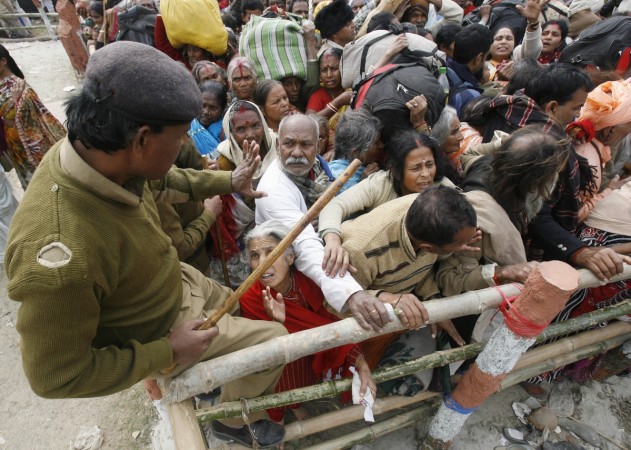 UPDATES
5:15 pm: So far 29 people have been reported dead and in the Godavari Maha Pushkaram stampeden in Andhra Pradesh's Rajahmundry city. Several pilgrims were injured.
Andhra Pradesh Chief Minister N Chandrababu Naidu has announced an ex-gratia of ₹10 lakh to the family of dead pilgrims, according to news reports.
1:50 pm: The death toll due to the stampede at Godavari River in Andhra Pradesh's Rajahmundry city has climbed to 27.
Of the 27 deceased pilgrims, 25 are woman.
12:08 pm: The death toll in Godavari Maha Pushkaram stampede in Andhra Pradesh's Rajahmundry has reached 22, IANS reports.
11:59 am:
Update: 17 killed in stampede at Andhra's Godavari Pushkaram, toll may go up http://t.co/1W0lyse4ex

— Hindustan Times (@htTweets) July 14, 2015
The death toll is expected to rise as many injured victims, undergoing treatment at Rajahmundry government hospital, are said to be in critical condition.
Original Story: At least two people have reportedly been killed in a stampede in Andhra Pradesh's Rajahmundry city during Godavari Maha Pushkaram celebrations, which started on Tuesday.
According to reports, four people were injured in the stampede at Kotagummam Pushkar ghat in where thousands of people had gathered to take a holy dip in the river.
The incident took place when a large number of pilgrims rushed towards one of the gates of Kotagummam pushkar ghat to take the dip.
Naidu, who also took the holy dip in the Godavari in Rajahmundry on Tuesday morning along with his wife and son, rushed back to take stock of the situation, Zee News reported.
The relief work at the ghat has begun.
At least four crore people are expected to take part in the 12-day Godavari Pushkaram event, which is celebrated once in every 12 years. This year's event is special as it marks the Maha Pushkaram, which comes once in every 144 years. Due to this, the population of worshippers is expected to be high.
The pilgrims come to the event to take a holy dip in the Godavari, for which the Andhra Pradesh government has prepared 263 bathing ghats in the East and West Godavari districts in coastal Andhra, while Telangana has 106 such ghats, PTI reports.
Godavari Pushkaram is considered the Kumbh Mela of south India.