Prime Minister Manmohan Singh and Congress chief Sonia Gandhi approved on Tuesday the formation of Rayala-Telangana with 12 districts, as proposed by Group of Ministers (GoM).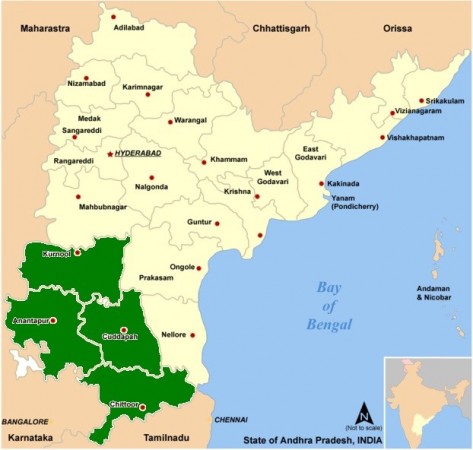 As per NDTV news channel reports, the Central government gave a nod to the proposal, which states that the two Rayalaseema districts of Anantapur and Kurnool along with the existing 10 districts of Telangana will form the proposed 29th state of India.
After the bifurcation of Andhra Pradesh, both the states will each have 21 Lok Sabha and 147 assembly constituencies.
The proposal to reconstruct the borders of Telangana is likely to get an approval by the union Cabinet on 3 or 4 December.
The GoM has recommended that both the states carved out of Andhra be given a special status under Article 371-D of the Indian Constitution, reported India News.
The move has been shot down by several political parties including the main Opposition and supporter of Telangana - Bharatiya Janata Party (BJP).
The BJP has described the Rayalatelanana proposal as a political strategy by the Congress to reap electoral gains during the upcoming Lok Sabha polls next year.
Telangana Rashtra Samiti (TRS), a dominant force in Telangana region, and Telugu Desam Party (TDP) have condemned the proposal of a 'Rayalatelangana'.
YSR Congress president Jaganmohan Reddy, who hails from Rayalaseema district of Cuddapah, has termed the 'Rayalatenlangana' proposal as a 'divide-and-rule' conspiracy by the Congress.
"Bringing up the Rayal Telangana issue is only to water down the Samaikyandhra agitation as the Congress and TDP put together are unable to face YS Jagan Mohan Reddy politically. This conspiracy will not stand as people could see through the dubious designs of divide-and-rule and we condemn it," YSRC leader Sobha Nagi Reddy told Siasat Daily.