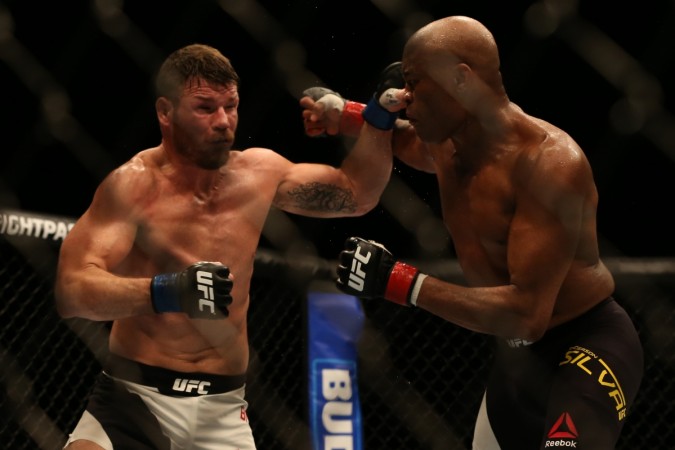 While almost everyone kind of praised the Brazilian Mixed Martial Arts (MMA) legend Anderson Silva following his unanimous decision to win over Derek Brunson at UFC 208, there is one certain fighter who is not happy at all with what Silva is doing at the moment.
Michael Bisping, the current UFC middleweight champion of the world, feels that the 41-year-old is on a self-destructive mode.
READ: Silva still wants to continue fighting for six-seven years!
The Englishman feels that Silva may be winning a few of his matches inside the octagon off late, but the sting from his fight has long gone missing. The 37-year-old thinks that Silva should plain and simple retire now, if he cannot win his fights via the most emphatic way possible. Like he used to do in the past.
"I'm not trying to kick a man while he's down, I'm really not. I bought the pay-per-view to watch Anderson Silva. Regardless of what's happened between the two of us, I'm a fan of Anderson Silva, and he still always brings that excitement," spoke Bisping at the SiriusXM radio show.
"Even still, right up until the final bell of the 15 minutes fight you still thought, 'Hold on, is he gonna pull something amazing out of the bag?' But he didn't and what he did was, he allowed Brunson to outwork him so when he went to a decision, everybody thought Derek Brunson was gonna get the decision," Bisping mentioned about Silva's UFC 208, adding that the Brazilian was just doing nothing and making a mockery of his gifted techniques in the fight.
"Of course, it [the fight] went to Anderson Silva which was shocking, and I guess maybe you could see an argument for Anderson winning rounds one and two, but it was just a bizarre performance and his legacy is slowly turning into that of somebody that's – well he's tarnishing his legacy.
"Let's put it like that."
After his Round 1 knockout win over Stephen Bonnar in 2012, Silva failed to win all his fights thereafter -- twice against Chris Weidman, once against Bisping and Daniel Cormier; his fight against Nick Diaz in 2015 turned out to be no contest.
It took almost five years for the Brazilian to get his first win inside the octagon -- at UFC 208 – which turned out to be a controversial result!