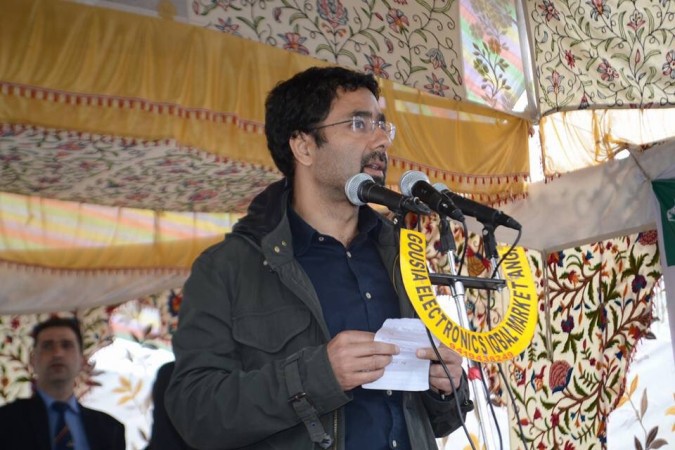 Tassaduq Mufti, the Jammu and Kashmir Peoples Democratic Party (PDP) candidate for Anantnag Lok Sabha byelections, said on Monday that he wants the bypolls postponed in light of the violence in the state and especially around the constituency. The Election Commission (C) is reportedly considering the option.
Also read: By-elections 2017 round-up: Violence mars polling in Srinagar, 6 killed; brisk polling in Karnataka, Delhi
National Conference (NC) leader Omar Abdullah replied that if the EC postpones the election, Jammu and Kashmir Chief Minister Mehbooba Mufti — Tassaduq's sister — should resign, because it would be an indictment of her failure to maintain peace in the state.
'Postpone the elections'
Tassaduq — who gained fame in Bollywood as cinematographer in films like Kaminey and Omkara using the name Tassaduq Hussain — told reporters on Monday, April 10, that the PDP has sent a request to the EC to postpone the Anantnag byelections, which are slated to be held on April 12.
His statement comes after six people were killed in violence in Srinagar and Budgam on Sunday, and the death toll rose to eight on Monday. The violence continued on Monday as well: The Government Middle School in Padarpora area of Shopian was set on fire by unidentified people. The school was chosen as a polling booth.
Omar Abdullah retorts
NC leader and former Jammu and Kashmir Chief Minister Omar Abdullah hit back at the statement. He took to Twitter to say that the poll panel is "well within its powers to postpone or countermand" the Anantnag byelection, but if it happens, Mehbooba Mufti "must resign" and the "governor should take charge."
Omar went on to add: "Tassaduq's statement is an indictment of his sister Mehbooba Mufti's government and its abject failure. How can the BJP not see this?"