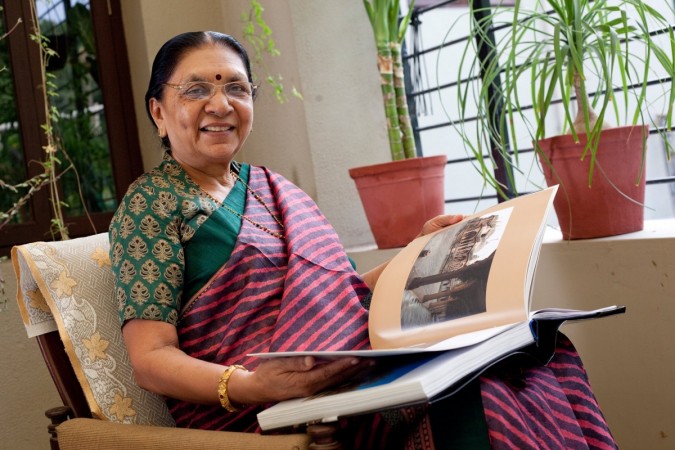 Anandiben Patel takes oath as the next CM of Gujarat pic.twitter.com/KoaJScWkXU

— ANI (@ANI_news) May 22, 2014
While Prime Minister-designate Narendra Modi heads to Delhi after a never-before-seen election victory in 30 years, one of his closest aides, Anandiben Patel has been sworn in as his successor, becoming the first woman chief minister of Gujarat.
Patel has been considered to be one of the most popular politicians in Gujarat and there has been little surprise that the only name proposed as Modi's successor was that of her.
The 72-year-old school teacher-turned-politician has seen a remarkable journey in politics. She rose higher in her ranks to be Chief Minister after spending years as a loyal BJP member.
After finishing studies, she took up teaching in Ahmedabad before joining the women's wing of the BJP in the 80s. She quickly rose up to the ranks after that, IBNLive notes.
She has been separated from her husband for the past 15 years. She was elected to the Rajya Sabha in 1994, while she also contested for assembly elections in 1998. She has been a BJP minister ever since.
Patel has been a key leader in the BJP cadre of Gujurat, alongside former Chief Ministers of Gujarat Keshubhai Patel and Narendra Modi. Setting record for being one of the longest serving woman MLA in Gujarat, she has been the Cabinet Minister of Road and Building, Revenue, Urban development and Urban Housing, Disaster Management and Capital Projects in the Government of Gujarat from 2007 to 2014.
She is currently the only woman MLA of Gujarat to be elected for 4 consecutive times.
Patel was sworn in as the new CM of the state at the "auspicious time" of 12: 39pm. After the swearing in, she was congratulated by the Gujarat MLAs as her zealous supporters chanted, "Bharat Mata Ki, Jai!"
After her swearing-in, the new Cabinet members also took the oath.