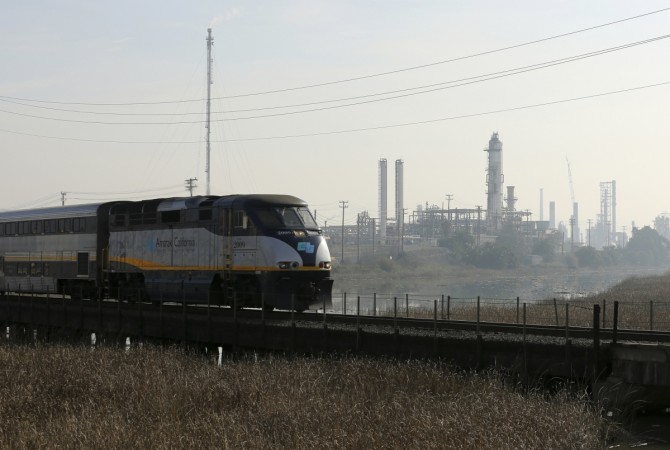 An Amtrak passenger train with more than 200 passengers on board derailed in north Philadelphia on Tuesday night, causing multiple injuries, rail line and city fire officials said.
A fire department supervisor who did not give his name told Reuters by telephone there were "lots of injuries" at the scene of the wreck in the city's Port Richmond neighborhood along the Delaware River, but he did not elaborate.
Amtrak said there were 238 passengers and five crew members aboard the derailed No. 188 train on route from Washington, D.C., to New York.
"Initial reports are that several passengers have been injured and taken to local medical facilities for treatment," Amtrak said in a statement, but it provided no other details about the circumstances of the accident.
It said Amtrak service along the whole Northeast train corridor between New York and Philadelphia had been suspended.
An NBC affiliate in the city reported, citing officials, at least 50 people were injured when eight to 10 cars from the train derailed.
Ten patients were taken to Temple University Hospital in the city, spokeswoman Giselle Zayon said, but she was unable to describe the extent of their injuries.
CNN quoted the Federal Bureau of Investigation as saying there was no indication that terrorism may have been a factor in the derailment. The weather was fair at the time of the crash.
Television footage broadcast on MSNBC showed dozens of emergency workers scrambling around the wreckage with flashlights, with train cars strewn about in a zig-zag pattern. Photos from the scene showed emergency personnel loading injured people onto stretchers and backboards.
Former Pennsylvania Congressman Patrick Murphy, who was a passenger on the train, told MSNBC that his rail car flipped over, but he escaped with minor cuts and bruises.
"Those conductors and the one woman who works in the café car for Amtrak, they got pretty banged up," Murphy told the cable network. "Both were pretty wobbly but their first and immediate course of action was to make sure the people were OK."
Port Richmond is a working-class neighborhood that has recently become a popular place to live among younger adults in the city.
Sharon Achuff, 51, who lives along the tracks about 200 yards (meters) from the wreck, said she was sitting on her front stoop when she saw a bright, flashing blue light, followed by a loud boom.
In a video posted on social media, passengers could be heard crying and others were telling victims to crawl forward.
The National Transportation Safety Board said on its Twitter account that it was "currently gathering information" regarding the derailment.
CNN said Philadelphia Mayor Michael Nutter would hold a news conference shortly.
The crash was the latest in a series of rail accidents on heavily traveled passenger trains over the past year.
In March, 21 people were injured in Los Angeles when a commuter train struck a car that turned in front of it near the University of California, a month after 50 people were hurt and an engineer fatally injured when a Los Angeles-bound Metrolink train struck a pickup truck.
In February, six people were killed and a dozen injured when the Metro North commuter train they were riding in north of New York City hit a car stalled on the tracks during rush hour. The driver of the vehicle, a Jeep Cherokee, also died.