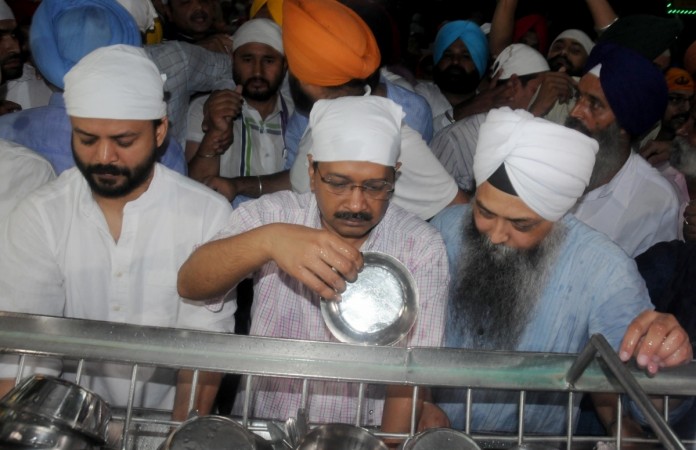 Delhi Chief Minister and Aam Aadmi Party (AAP) chief Arvind Kejriwal and AAP leader Sanjay Singh were granted bail by an Amritsar court on Friday in a defamation case filed by Punjab Revenue Minister Bikram Singh Majithia. Another AAP leader Ashish Khetan, who was also charged, was not granted bail. His hearing is scheduled for October 15.
The AAP leaders who are heading a campaign in Punjab had accused Majithia of supporting the much-debated drug trade in the state. They had also called him a "drug lord." Kejriwal has been loud, relentless and dramatic in his charge against the Shiromani Akali Dal, which is in power in Punjab. He has promised to eradicate the drug problem and penalise those responsible for it in the state.
Despite the defamation case, Kejriwal's AAP kept up its relentless attack against Majithia on Twitter with #MajithiaIsSmuggler. AAP followers in Punjab had accompanied Kejriwal to the court, which was packed for the hearing. AAP followers reportedly carried placards saying, "Main ek var nahin hazaar var kahanga, Bikram Majithia chitte da taskar hai (I will repeatedly say that Majithia smuggles drugs)."
The AAP warned Majithia that Kejriwal wouldn't leave corrupt leaders alone. Majithia, a leader of Shiromani Akali Dal, is the son of Satyajit Singh Majithia, a former Deputy Defence Minister, and brother of Harsimrat Kaur Badal, an MP.
Kejriwal had earlier challenged Majithia to arrest him in six months or he would arrest Majithia.
"It's not only me, (Ashish) Khetan or Sanjay Singh, lakhs of people of Punjab have repeatedly said that Majithia is a drug trafficker," Kejriwal said.
Section 144 was imposed in some parts of Amritsar before Kejriwal's arrival. The British-era law prevents assembly of four or more people at one place.