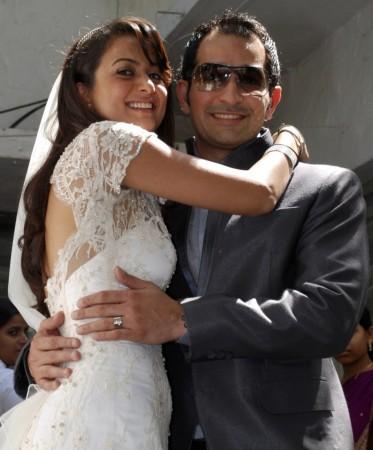 Bollywood actress Amrita Arora and her businessman husband Shakeel Ladak have named their new born baby boy "Rayaan".
Amrita and her husband welcomed their second baby boy to the world on Saturday.
"Yes, we've named our baby boy Rayaan. He's adorable. His name means, 'the door to paradise'," Amrita told IANS adding, "I am happy to be looking after my two boys and have no plans of returning to films."
Arbaaz Khan, husband of Amrita's elder sister Malaika Arora, announced on Saturday that his sister-in-law gave birth to a baby boy for the second time.
"Yipppeeeee! Amrita and Shakeel have another baby boy!!! He's too cute! Congrats," the actor-producer said on Twitter.
After getting discharged from the hospital on Wednesday, the 31-year-old actress tweeted, "I bring my son Rayaan home on the auspicious occasion of dusshera..Have a super day guys cos we have double celebrations in my house."
Amrita got married three years ago and gave birth to her first son Azaan in 2010.
Prior to giving birth to Rayaan, Amrita was recently seen attending her best friend Kareena Kapoor's weeding celebrations last week.
"Despite doctors' orders, Amrita insisted on attending Kareena's sangeet ceremony. She insisted she wouldn't miss it for the world," a friend close to Amrita told IANS.
Amrita started her acting career opposite Fardeen Khan in 2002 movie "Kitne Door Kitne Paas" which turned out to be a flop at the box office. She appeared in more than 18 films, out of which only two or three films were successful.