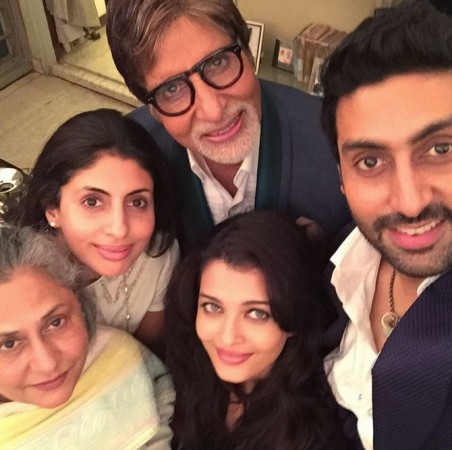 Technology has advanced in leaps and bounds and Bollywood actor Amitabh Bachchan, who is quite active on social media, has commented on the modern trend of taking selfies.
Bachchan, who returned to his palatial bunglow Jalsa after a 9-hour flight from London after spending time with his daughter Shweta Nanda said that he had clicked a million selfies with passersby, aircraft crew, airports staff and the behind-the-counter assistants at shopping stores.
He also expressed his amazement at the recent selfie culture that has gained massive popularity among people of all ages all over the world.
"'Selfies' or photo opportunities seem to be in abundance in today's times, and it perplexes me as to what really is the purpose when they come to be clicked with me," Bachchan mentioned on his blog on Thursday.
According to Bachchan, people are obsessed with selfies due to the "easy accessibility of the picture on their phone" compared to the age-old tradition of photography. "Its the easy accessibility of the picture on the phone. Its handy, its everywhere, it remains with you unlike earlier days when it had to be recorded in monstrous equipment, and then processed in laboratories or studios on print paper," he added.
A few days ago, he had tweeted:
T 1786 - Of this I am certain .. future generations shall never be short of photographic references for their posterity ! SELFIES zindabad !
Check out selfie moments of Amitabh Bachchan below:
T 1462 - My selfie .. my vote .. my inked finger !! Jai Hind !! pic.twitter.com/WAmcUvlGeU

— Amitabh Bachchan (@SrBachchan) April 24, 2014
Thank U @ShoojitSircar 4 brnging all of us 2gether @SrBachchan @deepikapadukone in ths delightful story by @writeonj pic.twitter.com/h5RaINGBav — IrrfanK (@irrfan_k) November 5, 2014
A selfie that's still giving me goosebumps! #AmitabhBachchan @SrBachchan pic.twitter.com/Dc3wXODMa6

— Rajesh Kejriwal (@raj20k) November 17, 2014
#picoftheday Shweta Tiwari and Amitabh Bachchan's pout selfie! pic.twitter.com/jSKS726r83 — TellyTalkIndia (@TellyTalkIndia) November 11, 2014
#Contest - Checkout Varun Dhawan & Amitabh Bachchan's selfie. Tweet your selfie using #SafiSelfie & #LetsTakeASelfie. pic.twitter.com/iMOfByuM69

— Zoom TV (@ZoomTV) September 17, 2014
Amitabh Bachchan @SrBachchan takes with selfie pic.twitter.com/Mf06aZ5Edk — Moses Sapir (@MosesSapir) May 3, 2014
Varun Dhawan clicks a selfie with Amitabh Bachchan. pic.twitter.com/j9WkQ7G5Yc

— Bollywood Now (@BollywoodNow) March 29, 2014
A Selfie Pic by Amitabh Bachchan on sets Of India's Got Talent #bollywoodmagicmasala #SelfieOlympics pic.twitter.com/uycgVkIrwZ — CinekornEntertainmnt (@CinekornEnt) March 18, 2014
@ArshinaTrivedi: "Can I just get one selfie with you." http://t.co/GSAPtp1UKR #DesiRascals pic.twitter.com/P7iTewH0uk

— DESIblitz ® (@DESIblitz) January 30, 2015