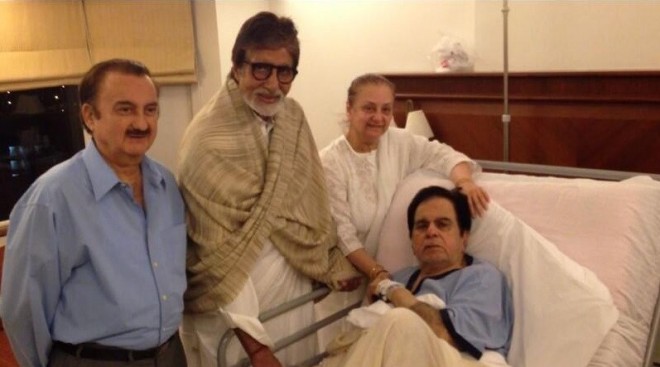 Bollywood superstar Amitabh Bachchan on Monday visited his co-star Dilip Kumar on Monday at Lilavati Hospital, Mumbai, where he is undergoing treatment following a heart attack.
Dilip Kumar, 90, was hospitalised on 15 September after he complained of uneasiness. He is recovering well and is expected to be discharged in a couple of days' time, according to reports.
"Out of the ICU, it's good to be in the hospital suite and have @SrBachchan as a visitor," Dilip Kumar posted on his Twitter account along with a picture of himself with Amitabh, wife Sairaq Banu and brother-in-law Sultan Ahmed.
"Mr. Bachchan came to meet Dilip Kumar today around 7 pm. They chatted for around half an hour. As far as Dilip Kumar's health is concerned he is absolutely fine and he now desperately wants to go back home," Udaya Tara Nayar, Dilip Kumar's close friend, told news agency IANS.
Amitabh wrote about his visit to the veteran actor on his blog.
"I had never met him so ... in bed, in hospital, ailing and troubled and harassed by all the medical fuss around him .. Dilip Kumar !! the great thespian, the wonder of Indian cinema, the ultimate performer in my eyes, lying there in Lilavati Hospital, recovering from a recent mild heart attack!" he wrote.
"He seemed cheerful .. at least when he saw me ... Saira ji warned me that he had been quite irritable and non cooperative throughout the day, and so to excuse any kind of untoward behaviour that he may dole out to me ... but he was gracious and kind .. repeatedly he kept saying 'wah' 'wah' and then slipping into repetitions of 'Allah'" he added.
Dilip Kumar was rushed to hospital on 15 September after suffering a mild heart attack. He was shifted to general ward on Sunday after spending a week in ICU. It is reported that he is recovering well and will be discharged in a couple of days. Amitabh also wrote on his blog that the family of the veteran actor is planning to take him home soon.
VIDEO: Big B's Day out with Pets