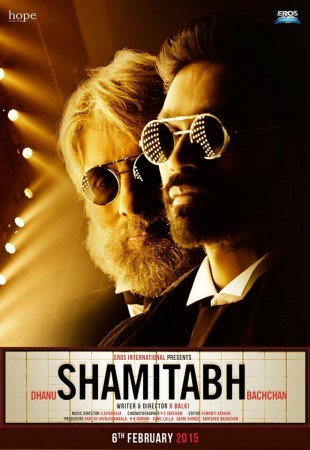 Bollywood megastar Amitabh Bachchan and Dhanush starrer "Shamitabh" is said to be inspired by the life of South megastar Rajnikanth.
"Shamitabh" revolves around lead actor Dhanush who plays a bus conductor but later becomes a superstar with support from Big B.
The plot of the film is believed to be inspired by Dhanush's father-in-law Rajinikanth, who was a bus conductor by profession during his early days.
"In the movie, Dhanush, follows the profession of his mother, selling edibles at a bus depot... and thereafter works as a bus conductor. How he becomes a superstar is what the story is about. The story is also slightly inspired by the life of Dhanush's father-in-law, Rajinikant," a source told Deccan Chronicle.
Shah Rukh Khan was earlier approached for the lead role but eventually it rolled down to the South star, the source added.
"Amitji plays a drunkard. The climax scene in his baritone voice was not only breathtaking but everyone present on the sets had tears in their eyes. Amitabh plays the keeper of a well-known graveyard. It's situated near a tea estate down South where the climax scene was canned," the source added.
Directed by R Balki of "Cheeni Kum" and "Paa" fame, the title "Shamitabh" has been derived from the last two letters of Dhanush's name "Sh" followed by Sr. Bachchan's name.
"Shamitabh" also marks the debut of Kamal Hasaan's daughter Akshara Haasan and will hit theatres on 6 February 2015.