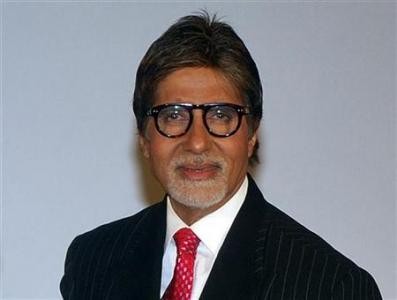 Bollywood megastar Amitabh Bachchan does not consider his cameo appearance in the recently released film "The Great Gatsby" as his Hollywood debut, but instead maintains it as "just a friendly gesture".
"I don't look upon it as my Hollywood debut. It is just a friendly gesture and nothing more. It is just a small scene with Gatsby and his friend, played by Leonardo DiCaprio and Tobey Maguire. Meyer Wolfsheim is looked upon as some kind of mentor to Gatsby in the story," Bachchan told PTI in an interview over phone from Mumbai.
Big B revealed that if he was offered another Hollywood project he would certainly consider taking it up. "... If something is offered and I need to consider, I will certainly consider it."
Directed by Baz Luhrmann, romantic drama "The Great Gatsby" is a 3D adaptation of F Scott Fitzgerald's 1925 novel with the same title. The movie features DiCaprio, Maguire and Carey Mulligan in lead roles.
The film is set to hit theatres in India on 17 May, after it is screened at the opening event of the 66th Cannes film festival.
Big B's first Hollywood project comes after four decades of acting in Indian Cinema.
Speaking about his entire look complete with sideburns and whiskers in the film, Amitabh said, "The look was Luhrmann's idea. I have got nothing to do with it. I only told him that I can't remove my beard because I was in the middle of continuity and he incorporated that."
Bachchan also recalled the moment when he was offered the role in "The Great Gatsby". He said he met Luhrmann when the filmmaker was on a tour to India but did not speak about films at all. But one day out of blue, Luhrmann offered him a role which he readily accepted.
Amitabh added that he would love to reunite with the Australian director for another venture.
Expressing his happiness over India being recognised worldwide due to its cinema culture Amitabh said, "I am delighted that India is being looked upon as a nation that is culturally important as far as cinema is concerned. A lot of talent is going across and working in Hollywood, there are many co-productions."
"We hope that in future many films get shot here and also have Indian artistes in it. I find these are happy moments."
Bachchan also spoke about his first encounter with his co-stars DiCaprio and Maguire. "We did not talk about Indian films. I don't think they (DiCaprio and Maguire) know me at all but it was nice meeting them and they were just very casual, normal individuals. They were very friendly, very warm and very cooperative," he said.
"The Great Gatsby" was released on 10 May and garnered mixed reaction from critics. However, the audience gave the film a warm welcome. According to Rotten Tomatoes, 84 percent of the public audience enjoyed the film.