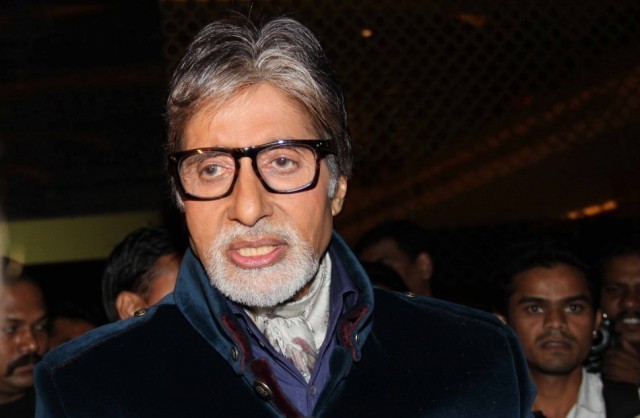 Filmmaker R Balki's upcoming film has come with an uncanny title called "Shamitabh."
On a first look, the film's title appears intriguing since it clearly carries the film's lead Amitabh Bachchan's name with "Sh" added to it. But the addition is the letters of the film's parallel lead, Dhanush's name.
"Yes, we've finally titled the film 'Shamitabh', as in 'Sh' before Amitabh. It is the name of a character in the film. We're half way through our shoot and we've enjoyed every bit of our journey so far," the film's director Balki confirmed Mumbai Mirror.
The strange choice of the name can be explained from the films plot which will have Bachchan lending his voice to a deaf and mute junior artiste played by Dhanush in the film.
Bachchan also confirmed the film's name on Twitter as he posted a podcast pronouncing of the film's name in his heavy voice.
T 1498 - No.. the title #SHAMITABH does not have a particular meaning .. the reason for the name will be found in the film .. !!

— Amitabh Bachchan (@SrBachchan) May 29, 2014
T 1498 - The title of my new film with R Balki #SHAMITABH .... and in my own voice this : http://t.co/4UumDKg9fC — Amitabh Bachchan (@SrBachchan) May 29, 2014
With the uncanny title choice, the buzz around the film has surely risen. Balki and Bachchan have previously produced films like "Cheeni Kum" (2007) and the highly acclaimed "Paa" (2009).
Apart from Bachchan and Dhanush, "Shamitabh" also stars Kamal Haasan's younger daughter Akshara Haasan, who marks her debut with the film. The film is being shot in various locations within the country spanning Mumbai, Goa and Ooty.
Previously, Shah Rukh Khan was in talks of starring in the Balki's film, but eventually the "Raanjhanaa" actor was roped in for the part. This will be Dhanush's second Hindi film and is sharing the big screen space with megastar Bachchan for the first time.
Bachchan who is quite active on social networking sites by sharing pictures from the sets of his upcoming projects has refrained from posting any photos of Balki's film.
T 1490 - Many ask for pictures of the shoot .. erm ... not possible. production does not allow that !! Sorry ..

— Amitabh Bachchan (@SrBachchan) May 21, 2014
Meanwhile, the senior actor along with the film is simultaneously working on his upcoming television serial where he will be seen in the role of a construction tycoon. The serial is being jointly produced by the Bachchan's home production, Saraswati Creations and Endemol. Filmmaker Anurag Kashyap is directing the serial.