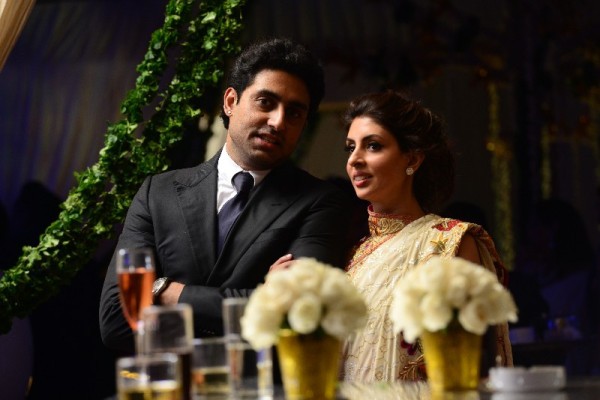 Bollywood's first family, the Bachchans, turned up in full revelry for a close friend's wedding recently.
The function held on Sunday coinciding with Amitabh Bachchan's regular Sunday fans meet had the megastar showing up for the grand occasion with his wife Jaya Bachchan, son Abhishek Bachchan, daughter-in-law Aishwarya Rai, daughter Shweta Nanda and her two children Navya Naveli and Agastya. However, his precious little grand-daughter Aaradhya was missing from the picture.
Another Bollywood member who showed up for the event was director Karan Johar who was clicked with Big B's daughter Shweta.
Abhishek, who looked dapper in black, was photographed grooving to the music at the event. His wife Aishwarya looked stunning in pink traditional attire.
Amitabh had tweeted on Monday, "A day with the family and the children and the well wishers of Sunday .. later a wedding event of friend .. fully final day !!"
Senior Bachchan was also spotted waving to the fans gathered outside his bungalow during the fan visit which has become a regular occasion for several years now.
"More at Sunday ... love to all that come and wish .. overwhelming !!!" he had said on the micro-blogging site.
Amitabh had been busy with the shooting of the upcoming season of his quiz show "Kaun Banega Corepati", the Indian version of "Who wants to be Millionaire?" The 70-year-old actor is currently facing legal issues after a complaint was lodged alleging that the show portrayed lawyers in a "derogatory" manner. The show is slated to go on air around the end of August or early September.
Click start to view pictures.