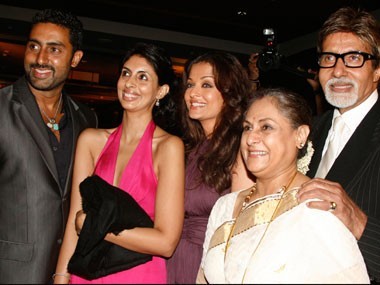 Father-son duo Amitabh Bachchan and Abhishek Bachchan will likely be working together once again not in a film, but in a new album.
Popular UK music producer Bally Sagoo is reportedly in talks with Big B to collaborate for a new album. Latest reports suggest that Sagoo might as well have Abhishek Bachchan in the album.
It has to be remembered that Sagoo and Big B collaborated for the album titled "Aby Baby" in 1996. The song "Eer Bir Phatte" from the album was a smashing hit receiving overwhelming response from all quarters.
"Now I have made Mumbai as my base as Bollywood is making me a lot of offers. On Amitabhji's project all I can say right now is that we are looking to infuse something fresh this time around," Sagoo told a leading daily.
"Once Bally is done with his new album, he will meet Amitabh alongwith Abhishek. Though he says it is impossible to get the 90's style back, which they had adopted during Eer Bir Phatte, we are hoping, with Abhishek, there might be more innovation in the project," sources said.
Earlier, Amitabh had written about a meeting with Sagoo on his official blog. The actor is currently busy with various projects including "Satyagraha" and "Bombay Talkies". He is also making his first Hollywood debut in "The Great Gatsby" alongside Leonardo DiCaprio.
Abhishek is also involved in different projects - "Dhoom 3" and "Happy New Year". The actor is currently in Vancouver, Canada to attend the first TOIFA awards ceremony. Abhishek will be performing with his wife Aishwarya Rai during the main awards event on 6 April.