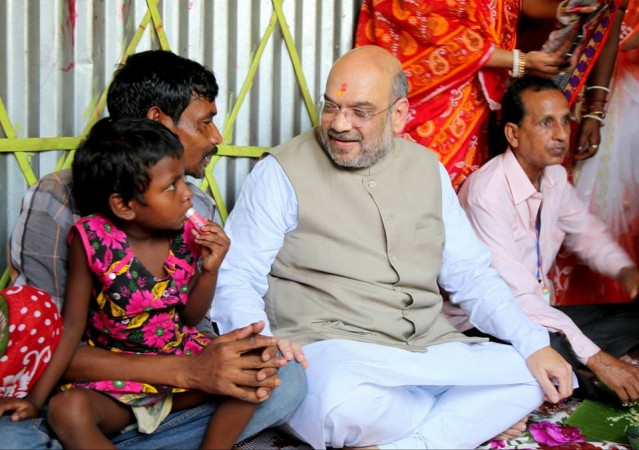 The BJP on Wednesday, April 26, blew the poll bugle in West Bengal with the campaign "Ebar Bangla" — which translates to "Next target Bengal". However, one of the first posters put out for the campaign contained a typo that implied that the political party doing the campaigning was some "BGP"!
BJP strengthening Bengal base
The BJP has been looking for a long time to strengthen its base in West Bengal. Its path has been made easier by the policies of the ruling Trinamool Congress and its chief Mamata Banerjee, whose actions as chief minister of the state are being seen in many quarters as appeasement of a minority community.
Also read: How Mamata govt is making it easy for BJP to rise in Bengal: A report from Birbhum district
That view was only strengthened with markedly Urdu words made their way into Bengali textbooks. Thus, Ma and Baba — the Bengali words for father and mother — became Abbu and Ammi. Add to that the fatwas being put out by Imams in West Bengal, like the one issued against Sonu Nigam, and the point starts becoming clearer.
'Ebar Bangla' campaign
It is given these circumstances that the BJP is looking to put up a strong political show in West Bengal in the next Assembly elections and fill the void created by the decimation and he subsequent failure of the Left parties to enact a resurgence. And that is why although Dilip Ghosh helms the Bengal unit of the BJP, Amit Shah is touring the state right now, well before the 2021 Assembly elections.
It was during this tour that he unveiled the "Ebar Bangla" campaign. And soon enough, Union Minister of State for Heavy Industries & Public Enterprises Babul Supriyo had tweeted out a poster for the campaign, featuring Shah and Prime Minister Narendra Modi. Except, instead of spelling out "BJP" phonetically in Bengali, it said "BGP" at the bottom right corner!
See the poster here:
Pointed out that there was a mistake on the photo, Supriyo deleted the tweet and quickly put up another, entirely different poster, which can be seen here:
It now remains to be seen how far the BJP goes in West Bengal, and whether it manages to form government in the state in 2021. If it does, it will be the saffron party's first-ever government in the eastern state.