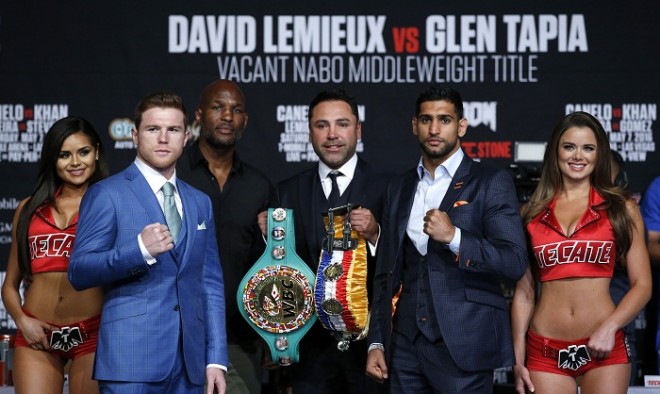 British Boxer Amir Khan is set for the biggest fight in his professional boxing career, against Canelo Alvarez for the WBC middleweight title at T-Mobile Arena in Las Vegas on Saturday. Khan has a tough task ahead, as the Mexican is a huge favourite to defeat the British boxer and retain his title.
It does not come as huge surprise as Alvarez is the overall favourite to win the bout in Las Vegas. After all, he has a mighty record inside the ring as compared to Khan. Alvarez has lost only one of his 48 professional bouts, against Floyd Mayeather in 2013.
Since then, Alvarez has defeated well-known names like James Kirkland and Miguel Cotto, among others. Alvarez's bout against Khan is his first fight of 2016.
Khan, on the other hand, has a decent record, but not as impressive as Alvarez. Khan has suffered three losses in his career so far, but is undefeated since his fight against Julio Diaz in 2013.
Khan is expected to rely on his speed while Alvarez will be using his brute force against the contender. If the Mexican connects some of his punches during the fight, it could be all over for Khan, who will be keen to stun Alvarez. What looks imposing in his career so far is his 32 knockout wins, which clearly explains his furious powerful punches, capable of flooring opponents.
Khan has a thing or two to prove as well during the fight. Not only have experts labelled him second favourite, but other boxers in the past like Floyd Mayweather and Manny Pacquiao have also snubbed him for a bout. Such things may spur the boxer to deliver and prove his class.
Both boxers must have prepared their strategies to the fullest, and it is time for them to deliver at the T-Mobile Arena, which is expected to be sold out.
The fight is special for both boxers for some other reasons as well. The winner of the bout is set to take on one of the best boxers in the world, Gennady Golovkin, in the near future. However, Khan and Alvarez will not be thinking too much ahead, and will be eager to shine in the mega showdown on Saturday.
Amir Khan vs Canelo Alvarez schedule
Venue: T-Mobile Arena, Las Vegas
Date: May 7, 2016
Time: 9 p.m (Saturday) local time ( 2 a.m BST and 6:30 a.m IST, Sunday)*
TV listings: UK: Box Nation. US: HBO PPV. Mexico: TV Azteca. Pakistan: PTV Sports. UAE and Middle East: DU TV, beIN Sports Arabia
Full undercard:​
Patrick Teixeira vs Curtis Stevens - 10 x 3 Minute Rounds Middleweight
Frankie Gomez vs Mauricio Herrera - 10 x 3 Minute Rounds Welterweight
David Lemieux vs Glen Tapia - 10 x 3 Minute Rounds Middleweight
Main Fight
Amir Khan vs Canelo Alvarez - 12 x 3 Minute Rounds WBC World Middleweight Championship - 9 p.m (Saturday) local time ( 2 a.m BST, 6:30 a.m IST, Sunday)*
Timings could change depending on earlier fights