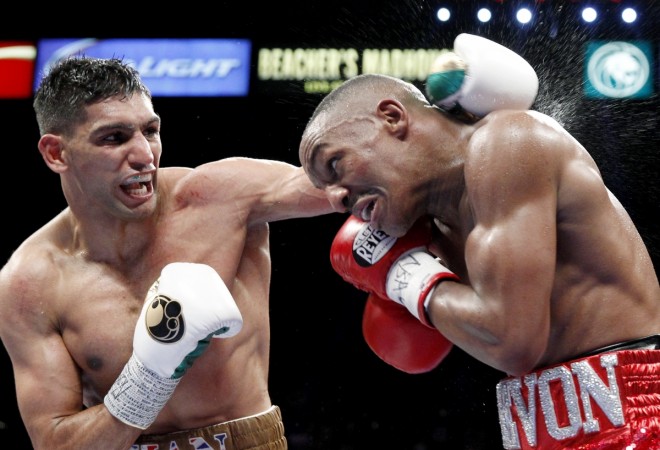 British boxer Amir Khan was keen to fight Floyd Mayeather in the past, but failed to convince him for a bout. Things seem to have changed now, as Khan is not interested in a fight against Mayweather, even if he comes out of retirement, which seems to have been gathering steam after the American suggested he might be seen inside the boxing ring once again.
Khan was not only snubbed by Mayweather, abut also Manny Pacquiao. The British boxer had also shown interest in a bout against the Filipino. With the boxer having failed to fight such quality opponents, Khan will finally get a chance to show his skills against another superstar -- Canelo Alvarez.
Khan is said to be second favourite for the clash as his opponent, Alvarez, defends his WBC middleweight title at the T-Mobile Arena in Las Vegas on Saturday. Khan is looking forward to the biggest fight of his boxing career.
"I was looking at the Mayweather fight, I was looking at the Pacquiao fight, and they didn't happen, I'm fighting now against Canelo where it's a huge fight. I've always wanted to be in a big fight like this," The Guardian quoted Khan as saying.
The winner of the bout is set to fight Gennedy Golovkin for the WBC title, and Mayweather is nowhere in Khan's sights.
"Do I want to fight Floyd Mayweather with all the messing around he's given me? He messed me around a lot so I don't think I'd take that fight. He messed me around, so I'd probably treat him the same way," Khan said.
The British boxer rather took a dig at Mayweather, stating the American is not getting enough attention in the boxing circle as people are talking about the mega fight between him and Alvarez at present.
"Floyd's probably missing not having his picture on the MGM. He must see my picture and Canelo's picture and think: 'People have forgotten about me.' As soon as you say you're retired, we do forget about the people who say that," the 29-year-old said.
"Mayweather's feeling that now, he's feeling like no one's talking about him, that he's old news, and maybe that's why he's trying to get everyone supporting him again by saying: 'I want to make a comeback.' Whatever Mayweather says, let him say it."