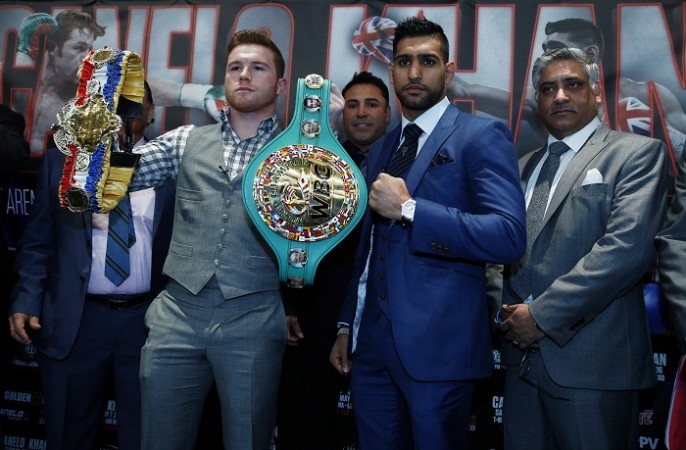 Amir Khan's fight against Saul 'Canelo' Alvarez is widely-anticipated as it is expected to be cracker of a bout in Las Vegas May 7. Amir Khan will be keen to snatch Alvarez's WBC world middleweight title, which is on the line as well.
Khan and Alvarez are established boxers, and will be eager to showcase their skills in what is expected to be one of the biggest fights in 2016. Both the boxers have a decent record in the boxing circuit with Khan having lost only thrice in his 34 matches so far, while Alvarez has an even better record with one loss only in 48 bouts.
But it is not going to be easy for either of the boxers to emerge victorious. If Alvarez has the size and power advantage, Khan's movement is one of the best, and his fast hands can catch the Mexican napping as well.
Former British boxer Ricky Hatton believes Khan has a challenging task, but his quick feet gives him a chance to defeat Alvarez.
"He's got a chance because he's very fast on his feet and very fast on his hands. If there's one thing that Canelo hasn't got — even though he's improved since the Mayweather fight massively — is the quickness of feet. He hits hard with both hands, he's a good boxer, but his feet aren't the quickest and that could be key," Hatton told ontheropesboxing.com during an interview.
"Whether Amir keeps the speed of feet after going up through the weights remains to be seen, maybe he's very fast at welterweight but do his feet move as fast when he moves up to middleweight? It will be interesting to see. It's not an impossible job for Amir but he is up against it, and I think even Amir would say that."
Khan is considered to be one of the best boxers among the current crop of pugilists. The British boxer even came close to fighting Floyd Mayweather and Manny Pacquiao, but their fights never materialised for some reason or the other. Hence, this fight gives Khan a huge chance to show and prove his mettle in the boxing ring against a quality boxer like Alvarez.
Hatton wants Khan to emerge victorious against Alvarez.
"I hope Amir wins it and he has the capabilities of doing good, but I think he just needs to know that he has the tools to do it," Hatton said.
Alvarez must beware of Khan's strong points, and must be preparing strategies as the Mexican has already started his training to get in perfect shape for the mega fight in May.
Irrespective of both the boxers possessing their respective strong and weak points, what it matters is their performance on the day in Las Vegas.