Undaunted by attacks from different quarters for offering "Jal Abishek" at Navagraha temple of Jammu and Kashmir's border district of Poonch, former Chief Minister and president of the Peoples' Democratic Party (PDP) Mehbooba Mufti "fearlessly" defended her action.
"I along with some other leaders went to a temple built by our leader late Yash Pal Sharma with the support of the people from all sections of the society," Mehbooba said, adding, "The temple is a symbol of brotherhood and communal harmony".
Mehbooba Mufti was addressing a press conference at Jammu after concluding a two-day visit to the border districts of Poonch and Rajouri.
"While offering prayers in the beautiful temple someone handed me a vessel full of water with devotion and piety. I respected his affection and devotion and did Jal Abhishek of Shiv Lingam," Mufti said while defending her decision.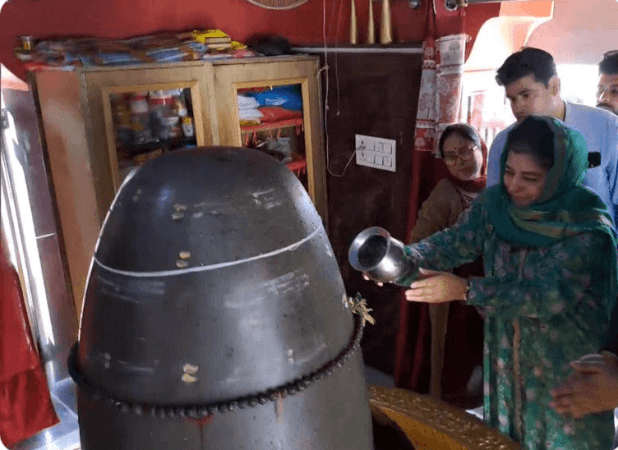 "We are a secular nation. We follow 'Ganga Jamuni tehzeeb'. I respect all religions", she asserted.
"If someone offered my vessel full of water with piety, I did not want to break his heart by refusing to pour water on the Shivling. He asked for it and I did it," Mehbooba Mufti said.
When asked about some Islamic scholars from Deoband in Uttar Pradesh disliking it, she said she did not want to delve into whether it is allowed or not in her religion.
"In our country, Hindus and Muslims live together and more Hindus are offering 'Chadar' at Muslim shrines than Muslims themselves. This issue is related to me and there is no need for further discussion over it," she said.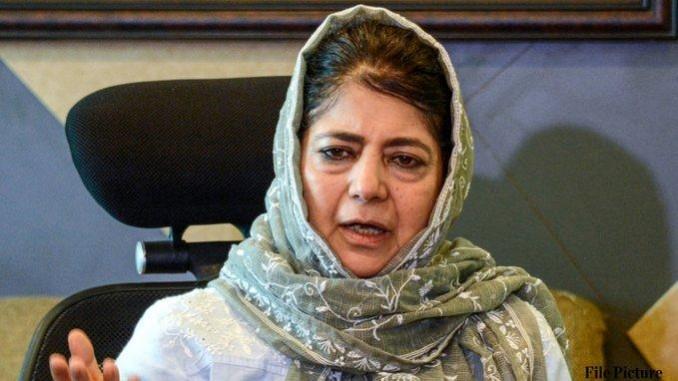 Some religious leaders criticize Mehbooba Mufti
Maulana Mufti Asad Qasmi of Madrasa Jamia Sheikhul Hind criticized Mehbooba Mufti for offering water to a Shivling. He said that what Mehbooba Mufti has done is inappropriate and not permitted in Islam.
Qasmi, who is also a former student of Darul Uloom Deoband and national vice-president of Ittehad Ulema e Hind said, "Be it Mehbooba Mufti or any other common Muslim, everyone is aware of what our religion says, what our religion allows, and what all is prohibited in our religion".
BJP dubs its "political gimmick"
The spokesperson for the J&K wing of BJP Ranbir Singh Pathania said that her visit to the temple was a "political gimmick".
"In 2008, Mehbooba Mufti and her party opposed the allotment of land to the Shri Amarnath Ji shrine board. Her party didn't allow the temporary transfer of land to the shrine board for construction of hutments for pilgrims," Pathania said.
Pathania said that Mehbooba's visit to the temple was just plain drama and gimmickry, which won't yield any results.
"If political gimmicks could have brought changes, then Jammu and Kashmir would have been an orchard of prosperity today," he said.
Mehbooba's video performing Jal Abishek goes viral
Mehbooba Mufti on Tuesday visited the temple in the Poonch district of Jammu and Kashmir and offered water on Shivling. The video of the event has gone viral on social media. During her visit to Poonch, Mehbooba Mufti visited Navgreh Mandir. She was seen performing "Jal Abishek" inside the temple to holy Shivling.