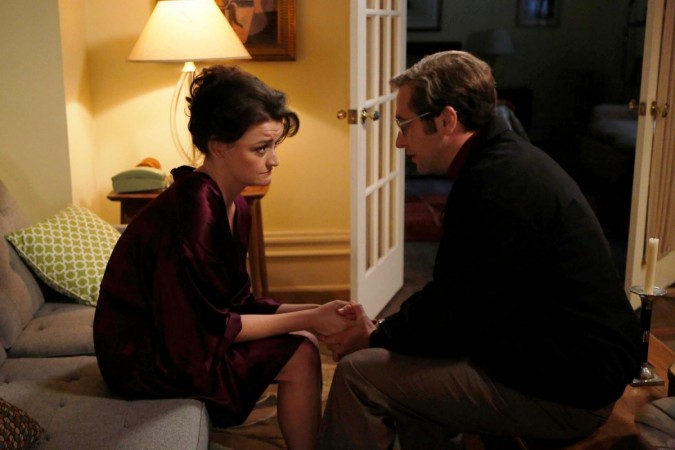 In "The Americans" Season 4, we see times getting more challenging for Philip and Elizabeth with every episode. While until last week the couple was seen figuring out ways to handle Pastor Tim and his wife, this week Clark's wife Martha will return, complicating things further for the Russian spies.
CLICK HERE to watch "The Americans" Season 4 episode 5, "Clark's Place," live online.
In episode 4, we saw Philip, Elizabeth and William stranded at Gabriel's apartment for an extended stay, after they started succumbing to the Glanders, the man-made disease used as a mass weapon. While this not only resulted in postponement of their plans to straighten things out with Pastor Tim, it also left them panicking about Paige.
The episode also showed Oleg returning to his home in Russia and asking his father to assist Nina, which he agreed upon on the condition that his son must remain in the country permanently. And at the end of "Chloramphenicol," Martha underwent a grilling examination by agents Aderholt and Beeman.
In episode 5, we will see things picking up from where they left in the previous episode. The synopsis of "Clark's Place" teases that Philip will have to take a tough decision, which will have a huge impact on him and Martha, who is actually Clark's wife.
The promo of the upcoming episode also shows KGB handler Gabriel asking Philip and Elizabeth if they have taken care of Pastor and his wife, to which she assures it will be done. The clip also shows Martha expressing her frustration to Clark, telling him she can no longer live as someone's secret. Meanwhile, a rep from KGB tells Philip and Elizabeth that Martha had discovered that the FBI knows about them.
At the end of the clip, we see Martha talking to her husband Clark on the phone and Clark (Philip) telling her that he loves her.
So, what is that decision that will change Clark and Martha's life forever? Will he choose Elizabeth over Martha to save her life and the mission?
Plot synopsis for "Clark's Place" (via TV Guide) reads: "Philip faces a tough choice that will drastically impact him and Martha."
"The Americans" Season 4 episode 5, " Clark's Place," will be aired Wednesday, April 13, 10 p.m. on FX.