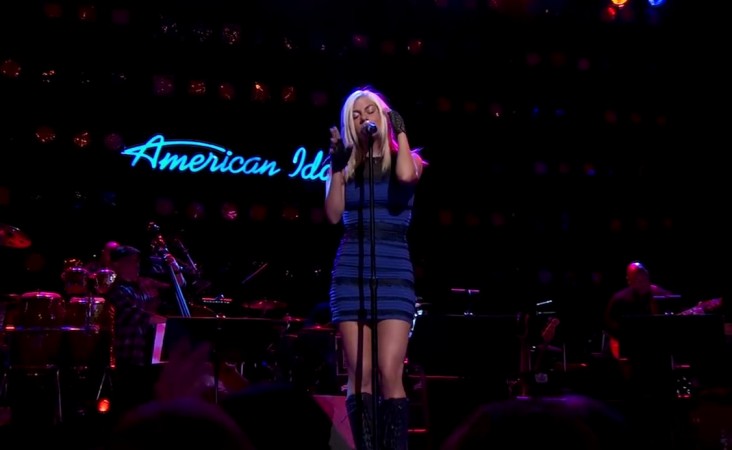 American Idol XIV 2015 top 12 finalists will perform live on Thursday with the hope of going to the next round. The number of contestants will be narrowed down to 10 based on public vote and the results will be announced next week.
The contestants' fate in the competition is no longer with the judges - Jennifer Lopez, Harry Connick Jr. and Keith Urban – though their feedback could influence the audience to some extent. It is the American public who decide who should stay in the competition through their votes.
American Idol XIV 2015 top 12 finalists will hit the stage again on Thursday, 11 March at 8/7c PM on FOX.
The 12 finalists were revealed on Wednesday. Four contestants - Mark Andrew, Adam Ezegalian, Alexis Gomez, and Loren Lott – were eliminated after getting least votes from the public.
It is reported that the remaining contestants will be made to perform the songs they performed during the auditions o Thursday night.
Here is list of 12 contestants and songs they will perform:
Quentin Alexander (21): "Royals" by Lorde
Clark Beckham (22): "It's a Man's, Man's, Man's World" by James Brown
Jax Cole (18): "I Want to Hold Your Hand" by The Beatles
Joey Cook (23): "King of Spain" by The Tallest Man on Earth
Sarina-Joi Crowe (19): "Love Runs Out" by OneRepublic
Adanna Duru (18): "You and I" by Lady Gaga
Nick Fradiani (29): "In Your Eyes" by Peter Gabriel
Tyanna Jones (16): "Wings" by Little Mix
Qaasim Middleton (19): "Sir Duke" by Stevie Wonder
Rayvon Owen (23): "Wide Awake" by Katy Perry
Daniel Seavey (15): "Hallelujah" by Jeff Buckley and "Straight Up" by Paula Abdul
Maddie Walker (17): "Suitcase" by Gwen Sebastian